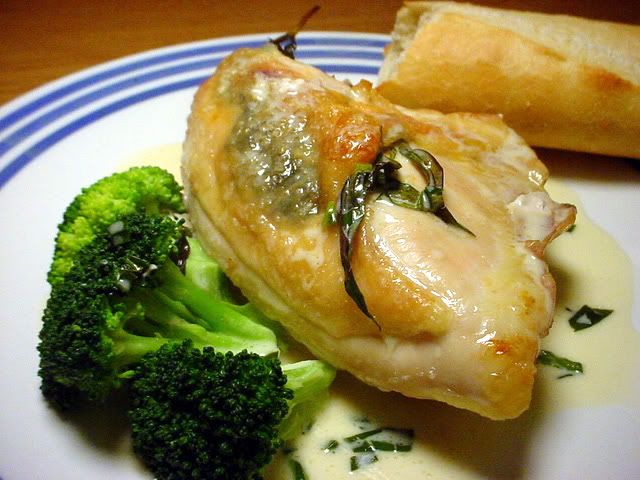 One of the best chicken dishes I've had. Ever. And its easy too.
But first I want to demonstrate my commitment to making good chicken stock. I was quite thrilled on Saturday when the allegedly bilingual girl behind the meat counter at the Hispanic market said that they could sell me 4 pounds of leftover chicken bones, ribs, etc., if I came back the next day. Upon arriving at the store on Sunday morning (after a 20 minute drive) I was dismayed to find that there had been a miscommunication. They had packaged for me 4 pounds of chicken guts and a few spare parts such as necks. Very few bones. Very few bones = not enough collagen for a good stock.
Why did I choose to study French? Living in Florida (and the United States for that matter) I find myself wishing I knew Spanish almost on a weekly basis. How often does my French come in handy? Jamais. Maybe I should move to Quebec.
In any case, the butcher was none too happy when I tried to explain that I had no use for his bag o' guts. He gave me a look of disgust and muttered something underneath his breath. I don't know what he said, but I'm pretty sure I heard the words "loco" and "gringo." I wasn't about to leave empty handed though, so I purchased about 8 pounds of chicken legs (for only $6!) and some cilantro to make salsa. And I was off, into the pouring rain.
About halfway home I was proceeding cautiously through a blinking yellow traffic light, when out of nowhere a PT Cruiser came firing out into the intersection. I hate PT Cruisers. Slamming on the breaks, I found myself hydroplaning toward the nefarious vehicle, fortunately coming to a stop about four feet away from the cretin, blissfully anonymous behind his or her tinted windows. I couldn't help but think at that moment about the fact that, had I actually T-boned the vehicle hard, the accident scene would have been littered with about 30 raw chicken drumsticks.
Nerves shaken, I made my way home as the rain began to pour even harder. For about an hour afterward I cut the meat from these drumsticks with a dull knife. My hands sore, my kitchen looking like an abbatoir, I cursed my own temerity. And what did I get from all of it? Only 3 gallons of perfect chicken stock! Not to mention a whole lot of trimmed dark meat that will go nicely into some future dish.
Anyhow, you should try this Tarragon Dijon Chicken. It's based on a couple recipes from Gourmet and Bon Appetit, with alterations in measurement and ingredients depending on what was at hand. One of those recipes calls for brandy instead of vermouth or white wine. I have to imagine that would be delicious. No matter which you use though, I guarantee you'll like this sauce.
RecipeTarragon Dijon Chicken
Serves 4
4 chicken breasts w/rib (skin on)
1 bunch fresh tarragon
1/4 cup water
salt
sauce:
drippings from chicken
2 Tbsps. chopped tarragon
1/4 cup vermouth
1/4 cup white wine
1/2 cup heavy cream
2 Tbsps. dijon mustard
1) slide a sprig of tarragon between the skin and meat of each breast. Sprinkle with salt. Pour 1/4 cup water into a roasting pan and arrange chicken on a rack. Place in oven preheated at about 375 degrees.
2) The chicken should take about 20 minutes. After about 15 minutes, remove from the oven, remove from the pan, and pour the drippings into a sautee pan. The chicken should then go back on the rack and into the oven.
3) heat the sautee pan over medium high. whisk the sauce ingredients together then add to the pan with the drippings. Stir until the sauce thickens.
4) remove chicken from oven and pour sauce over the top. The sauce also tastes great with broccoli, cauliflower, or rice.