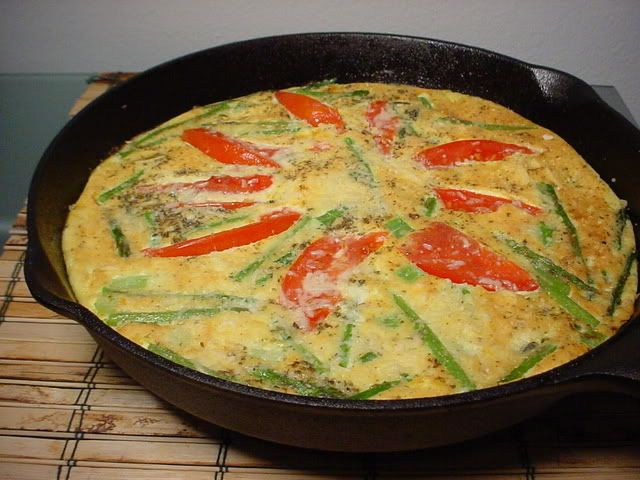 Starting in August, the blogosphere's own culinary representative of primates everywhere will be joining the already oversaturated ranks of prospective practitioners of the nation's legal profession. Yes, Kitchen Monkey is going to law school.
Top of the list is American University in DC, but also on the list of possibilities: Minneapolis, Boston, and Gainesville, FL.
What does this mean for Kitchen Monkey the Food Blog? Well, in the long term, fewer posts, since I will not be cooking nearly as much during my first year in hell. In the short term, a flurry of posts as I try to get in as much cooking as possible.
What does all this have to do with frittatas? In the coming months more of the posts on KM will be recipes that are simpler, cheaper, and quicker, since I am trying to conserve money for law school and for the June/July trip to France. Expect more dishes like this one and
Salmon in a Pouch.
You don't need many ingredients for a good frittata, but I do recommend that you have a good cast iron pan, properly seasoned. You can substitute different cheeses or vegetables quite easily. Its quick, easy, and delicious. It also goes extremely well with
Mae Ploy Sweet Chili Sauce.
Recipe:
Asapargus & Tomato Frittata
serves 4-6
8 eggs
1/4 cup water
2 Tbsp. cream
1/2 cup asiago cheese, shredded (parmesan or romano are suitable)
3 shallots, sliced thinly (1 medium onion would also work)
12-15 stalks asparagus, 1 inch trimmed off the bottom and discarded, then chopped in half
1 large tomato, sliced
salt, pepper
2 Tbsp vegetable oil
1) preheat oven to 325 degrees farenheit
2) with fork, whisk together eggs, water, cream, and half the cheese
3) in large cast iron pan (or oven safe sautee pan) sautee the shallots and asparagus in the oil over medium high heat
4) Turn off heat, make sure that the vegetables are evenly distributed across the surface of the pan, and pour in the egg mixture, tilting pan if necessary until surface of the frittata is flat. Place tomato slices on top.
5) place in the oven for 10-15 minutes, or until the top has started to brown. At this point, remove the pan, sprinkle on the remaining cheese, turn on the boiler, and place the frittata under the broiler for a minute or so.
Goes great with red wine and a nice light salad.