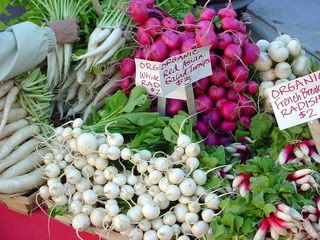 I've lived here for four years now and this was the first time that I managed to make it to the Farmer's market. You see, it starts early and closes early, and its not often I'm awake at 8 o'clock in the morning on Saturday--call me crazy. This weekend was different for reasons that are not even slightly interesting.
Many of the booths sell slightly upscale knick knacks, but there are some that sell food, including one that advertises their "sexy sausages." Sadly, I did not get a picture. There are a few good produce stands, including one that sold all-organic produce grown by the booth's proprietors. As you might imagine, it was a bit expensive, but they had a variety of hard-to-find Asian greens and all of their produce looked perfect, as you can see from the radishes and turnips above. I purchased some bok choy that will find itself in a stir fry sometime this week, but I was saving most of my cash for the spicemonger, where I bought all kinds of great spices that the supermarket doesn't carry: fenugreek, cardamom pods, whole allspice, whole coriander, and some great looking saffron. I also purchased a pound or so of Himalayan red rice, so if anyone knows of any good recipes for this nutty, chewy rice, please let me know.
For a great picture of the spicemonger's booth, see
this post
at I'm Cookin' Here.