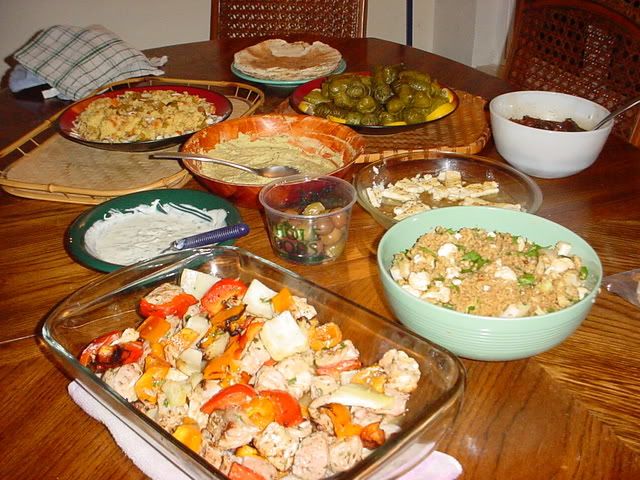 In the days of the Ottoman Empire and well before, some Arab tribes would welcome a very important guest by preparing a special dish that puts Turducken to shame (as though Turducken weren't already a bit of a shame). They would start by stuffing a quail into a chicken. The chicken would then be stuffed inside a larger bird, two of which would then be stuffed inside the carcass of a sheep. Repeat this 3 more times for 3 more sheep, then stuff all 4 sheep into the carcass of a camel. Roast for a long time. Serve with..........pride, I suppose.
After failing to procure a camel, we decided to scale back our ambitions, and prepared a lovely feast of mezze. If you've ever had hummus, or falafel, you've had
Mezze
. It could be seen as the Middle Eastern equivalent of tappas, I suppose. I've listed below what was included in the spread, along with the person responsible for making it.
Dolma (Kitchen Monkey)
Hummus (Liz)
Yoghurt Dip (Nick)
Tabouleh with Cauliflower and Fennel (Nick)
Feta with some sort of honey & spice glaze (Mary)
Pita & Olives (Guapo)
Swordfish and Tuna Kebab (Kitchen Monkey)
Laban al Loz - Almond Drink (Liz)
Egyptian Dessert Cous Cous - (Kitchen Monkey)
Dates soaked in Coffee and served with Yoghurt - (Nick)
Later I'll be posting detailed instructions on how to make dolma (stuffed grape leaves), one of my favorite dishes to make and always a surefire hit with guests. I'll post recipes for the cous cous and the kebab later in the week. Salam.