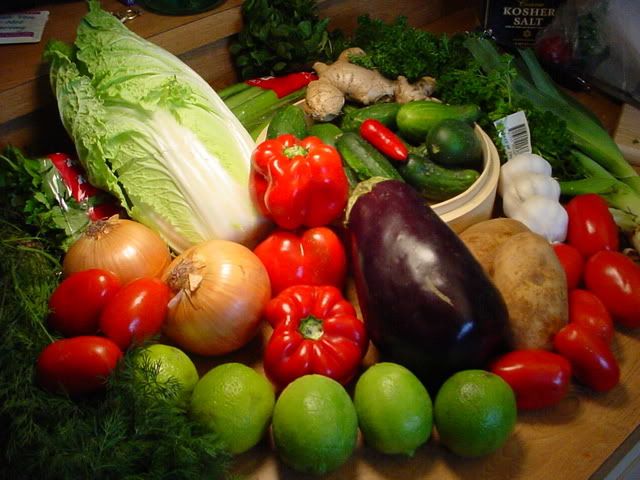 My effort to save $$ on groceries has been a mixed bag, so to speak. While I seem to have splurged on a nice chunk of raclette cheese, a couple lamb shanks, and a good bottle of suvignon blanc, I also managed to get some real bargains today. For starters, the beautiful array of produce you see above, purchased as per my weekend ritual at the Red Barn produce market in Bradenton, Florida, cost a mere THIRTEEN DOLLARS!!! For little more than the price of a movie ticket in NYC, I have enough vegetables to last a week and a half.
We also stopped by a great new hispanic market where my amigo
Nick
picked up some "instant" masa, and I purchased two whole tilapias, which i might bake with a sea salt crust. Mmmmmm, sea salt crust. They also have great authentic mexican food with the best tortillas I've had since I lived in New Mexico. Two tacos al pastor and a quesadilla con pollo later I was stumbling out into the sunlight thinking about how wonderful life is. The woman behind the meat counter said if I came back tomorrow she'd sell me 5 pounds of chicken carcasses! I see a giant batch of stock in the near future.
We then hit up a nearby Korean market owned by an ebullient man named Yi, whose enthusiasm for his products was infectious. I walked out with some panko crumbs, a jar of Yi's homemade kimchi (deliciously sour!) and a stout called "The Hite," which is brewed and bottled in Seoul, Korea. It's no Guinness (what is?) but it is very smooth and rich.
What to expect from Kitchen Monkey in the week to come? Well last night's chicken tarragon will make an appearance. As soon as I finish this post I'll be making dill pickles out of those tiny cukes you see, and tonight I'll be slow-roasting a pork loin. Tomorrow maybe some eggplant parmesan or babaganoush. Who knows?