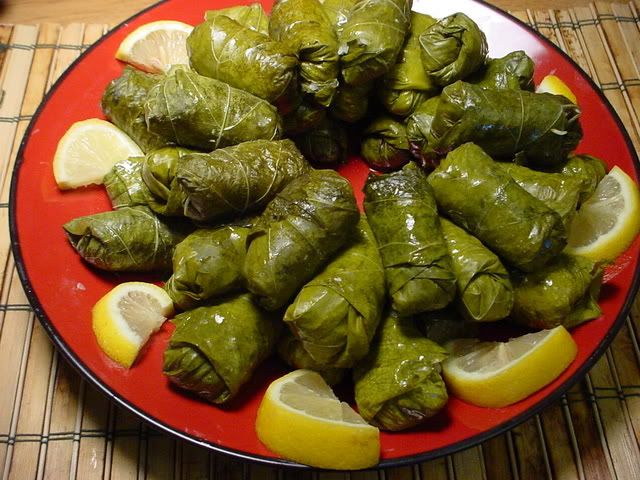 Presenting one of Kitchen Monkey's Top 10 favorite dishes to make. Part of
Saturday's Feast.
Dolma, like
gyoza
, do require a good bit of effort, but try bringing 50 of these little beauties to a potluck and you will both delight and impress your friends, most of whom brought chips and salsa or some sort of casserole topped with crumbled potato chips.
Would you like the recipe along with detailed instructions? Happy to oblige...


Dolma (Vegetarian or Not)
Makes 40 to 50 dolma

1 Jar grape leaves
1 lb. ground lamb
1/4 cup mint, chopped finely
1/4 cup parsley, chopped finely
1 large onion, diced
4 tbsp. olive oil
1 1/2 cups uncooked long grain rice (I use basmati)
1 tsp. salt
2 lemons
1/3 stick butter
2 cups chicken stock

1) In 3 cups of boiling water, add the rice, and cook for 10 minutes or so, until slightly tender. Drain, rinse with cold water, and set aside.
2) gently pull the bunched rolls of grape leaves from the jar--careful not to tear any. Unroll them, and place them in a large bowl filled with boiling hot water. Let them soak for about 15 minutes, then drain and rinse in cold water. Remove stems with a pair of kitchen scissors, being careful not to rip the leaf.
3) In a pan, sautee the ground lamb until just brown. Set aside.
4) In a different pan, heat the olive oil and add the onion, sauteeing until transluscent. Add the parsley, mint, and salt. Sautee for a few more minutes.
5) Combine the lamb, onion and herbs, and rice, stirring thoroughly. Allow mixture to cool. Feel free to omit the lamb and add more onion and rice for a vegetarian version.
6) Separate the leaves, setting the smallest or torn ones aside. Use some of these to line the bottom of a baking sheet or roasting pan.
7) Now for the rolling. Start with large leaves until you get the hang of it, laying it flat in front of you. Place a spoonful of the mixture toward the bottom of the leaf, leaving about an inch of leaf below. Fold the bottom part upward just over the mixture. Fold in the right then left sides of the leaf, then continue rolling from the bottom. Voila! (See photos above for a clearer example)
8) Place the dolma next to eachother on the baking sheet. When you have rolled all the mixture away, top the dolma with thin pats of butter and thin lemon slices. Now pour the chicken stock over the dolma. Don't use all 2 cups if this means not being able to navigate to the oven without spilling.
9) Cover the dolma with more leaves, or foil if the leaves are all used. Place sheet in an oven preheated to 350 degrees for about an hour to an hour and a half.
10) remove covering and leave to cool for 10 minutes. Drizzle with olive oil and lemon juice, and place on a serving tray or plate with lemon wedges. Eat.