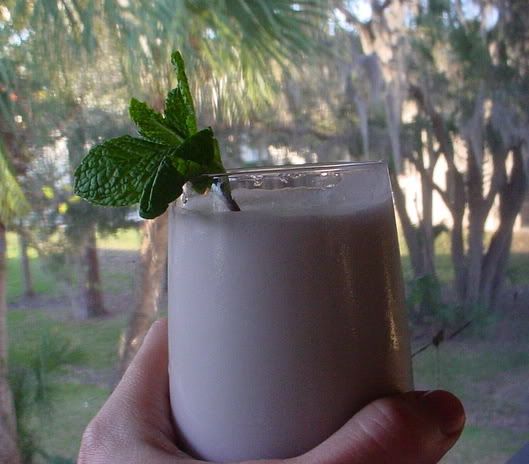 I decided to celebrate with a fancy drink today after work. Why?

Kitchen Monkey is going to France.

I'll be leaving on June 9th and returning on July 12. For three weeks I'll be polishing up my waning french language skills in Bordeaux, where I will also polish up my waxing wine swilling skills. Can you say "waxing wine swilling skills" five times fast? I thought not.
In early July I'll be going to a small village near Lyons to attend the wedding of my brother and his fiancee, who is one of those French people. After that, Kitchen Monkey might even skip down to Rome to meet up with a couple amigos from Tampa. In other words, there will be many many many food adventures. Since I'm flying out of JFK, I may even get a chance to stop in at
Minca Ramen Factory
again.
So I decided to make a fancy drink after work. Nick made these last Saturday (see post below) and left his blender here, so I decided to make my own. There are many different kinds of lassi. The one Nick made, for instance, had no coconut milk and involved crushed fennel seeds. This one is fairly simple and
very
refreshing. Did I add a little rum? No. Would it curdle? Maybe. Would I care? No. Did I have any rum to add? No. Should you add rum? Yeah!
Recipe
Coconut Lime Lassi
makes 2 glasses
Blend together:
15 oz. coconut milk
3/4 cup plain yoghurt
1/4 cup lime juice
1/4 cup caster sugar (I used the sugar Nick left here, which is just regular sugar that has gone through the food processor).
8-12 ice cubes.
Garnish with mint or a slice of lime.