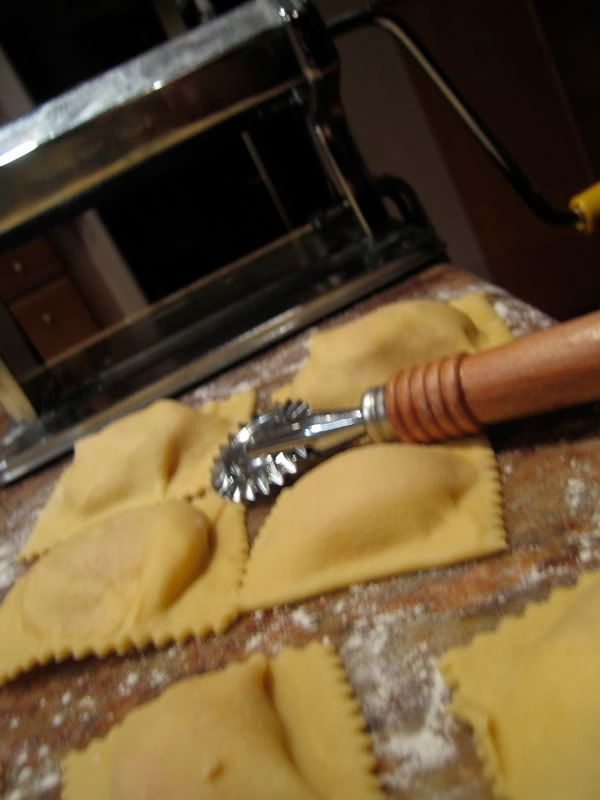 Kitchen Monkey had a birthday on Saturday and to celebrate he went and purchased for himself two wonders of technology that all of the kids seem to be carrying around these days: a ravioli pastry wheel cutter, and a stainless steel splatter screen.
It has been a while since I last made ravioli and I was really looking forward to making something new. A dinner party for 8 people seemed like the perfect occasion to try something appropriate for the season. I went to the local market to get some ideas for filling the raviolis. After staring blankly at the pumpkins for about thirty or forty minutes, a thought popped into my head. "Pumpkin ravioli." Another thought soon followed: "yum."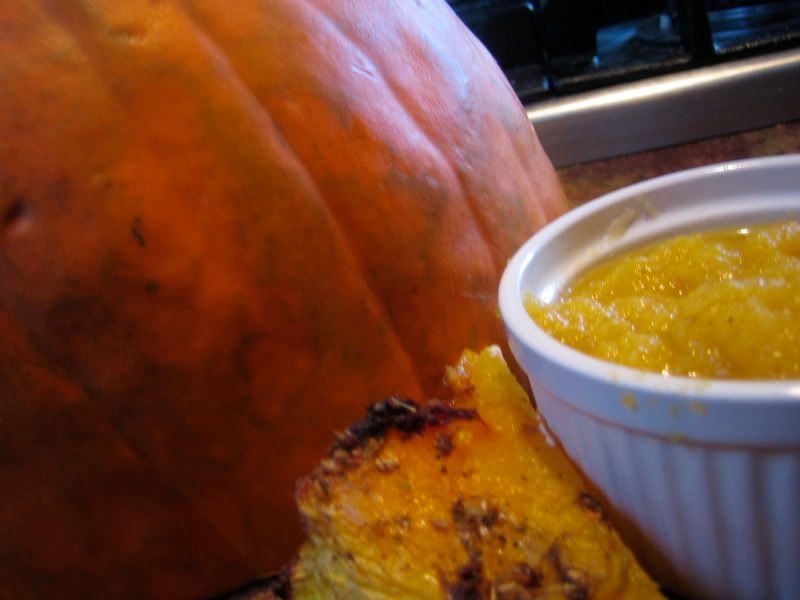 More than one pedestrian may have smiled at the image of Kitchen Monkey on a Vespa with a large pumpkin, a passenger, and many bags of groceries. I got home and sliced it into large chunks after scooping out the seeds and stringy bits (the pumpkin, not the passenger!) I then made a spice mixture of coriander & fennel seeds, garlic, dried chilis, and olive oil, spreading it on the inside of the pumpkin and laying the chunks on baking sheets in a 400 degree oven for about 45 minutes. The house smelled amazing, and when they were cooked through I scooped off the meat of the pumpkin and put it all in the food processor and hit puree. With a bit of white wine and cream it would have made a fine soup. Instead, I mixed it with a large container of whole milk ricotta and set it in the refrigerator.
While the mixture was cooling I made the pasta. The standard 2-egg-per-cup-of-flour, adding additional flour to get the right consistency. I usually like to make the pasta dough
the old fashioned way
, but I was in a hurry here and just plopped the ingredients in the food processor. It came out just fine. The ravioli always take longer than I expect, especially when cooking for 8 people, about 100 ravioli. But with my handy pasta machine I rolled out about 16 thin sheets .
Each teaspoonful of the pumpkin mix was then topped or wrapped with a piece of prosciutto and the top layer was laid down, the edges pressed together, and the roller used to separate the individual pieces. The sauce? Nothing more than butter, garlic, fresh sage leaves, and fresh grated parmesan.
But that's not all! Oh no, dear reader. I had to try out my new splatter screen, and the local seafood market had some beautiful-looking squid. I bought two pounds, chopped the tubes into rings (I really like the tentacle clusters best) and coated them in white flour seasoned with salt and pepper before frying them in vegetable oil. Served with marinara...amazing.