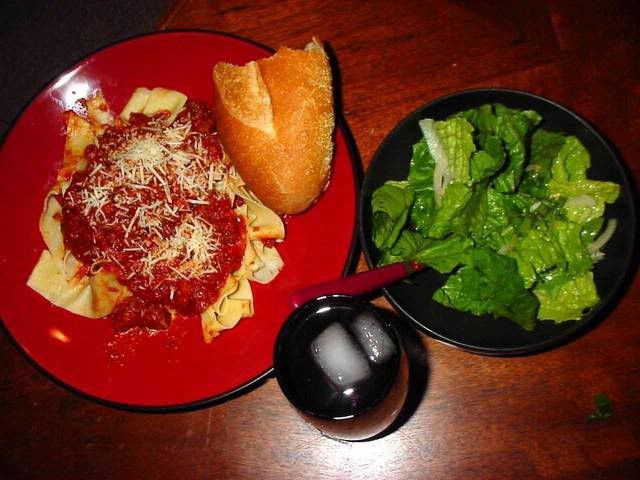 I fell off the beef wagon and hit the ground hard. For nearly 5 years I've eaten almost no beef whatsoever, just pieces here and there. But a couple nights ago a friend grilled some incredible steaks and I couldn't resist. Since then I've gone a little crazy. Yesterday I came home from the store with Lit'l Beef Smokies, roast beef, and a package of ground sirloin. I expect to be 5 pounds heavier within the next couple weeks, and I expect a Christmas Card from the American Beef Council.
Anyhow, the ground beef found its way last night into an amazing
Ragu alla Bolognese
. This is basically a meat sauce which has been simmered for a long time. The recipe came from Marcella Hazan by way of the L.A. Times, who adapted it. I didn't change too much, except I added garlic and used crushed instead of chopped tomatoes. Oh, and I also tend to like my sauce on the sweeter side so I added a tablespoon of sugar. We also made
tagliatelle
, which was labor intensive since I have no pasta machine, but was
well
worth the effort. Nick helped alot with the pasta as you'll see in the pictures below. I've decided I'm enamored enough of fresh pasta to sink some cash into a machine. Soon. I copied the text from the LA Times article since I don't know how long the link would remain viable. I should mention that the article said it would serve 8. The sauce perhaps, but the pasta recipe is closer to 4-6. Or maybe we were all gluttons. It
was
difficult to move afterward, though Nick had a nice bottle of Italian bitters to aid with digestion. Please make this recipe.
Total time: 1 hour, 25 minutes plus 3 hours simmering time
Ingredients:
1 tablespoon vegetable oil
3 tablespoons butter plus1 tablespoon for tossing the pasta
1/2 medium onion, chopped
2 medium cloves of garlic, minced
1 stalk celery, chopped
2 medium carrots, chopped
3/4 pound ground chuck (I used sirloin)
Pinch salt
Freshly ground black pepper
1 cup whole milk
1/8 teaspoon nutmeg
1 tablespoon sugar
1 cup dry white wine
1 1/2 cups canned imported Italian plum tomatoes, with juices, chopped (I used crushed)
3/4 pound fresh tagliatelle or 1/2 pound dried rigatoni, conchiglie or fusilli
Parmesan cheese

1. Heat the oil, 3 tablespoons butter and the onion in a large high-sided skillet over medium heat and cook, stirring often, until the onion is translucent, about 5 minutes. Add the garlic, celery and carrots and cook for about 2 minutes more, stirring to coat the vegetables with the butter.
2. Add the ground beef, a pinch of salt and a few grindings of pepper and cook, crumbling the meat with a fork, until it has lost its raw, red color. Add the milk and simmer it gently, stirring frequently, until it has bubbled away completely, about 15 minutes.
3. Add the nutmeg and stir. Add the wine and let it simmer until it has evaporated, about 25 minutes. Add the tomatoes and stir thoroughly to coat all the ingredients well. When the tomatoes begin to bubble, turn the heat down to cook the sauce at the laziest of simmers, uncovered, for 3 hours or more, stirring from time to time. You will need to add water to the pan occasionally to prevent the meat from sticking.
4. Taste for salt and toss with cooked, drained pasta and the remaining tablespoon of butter. Serve with freshly grated Parmesan on the table.

Fresh Pasta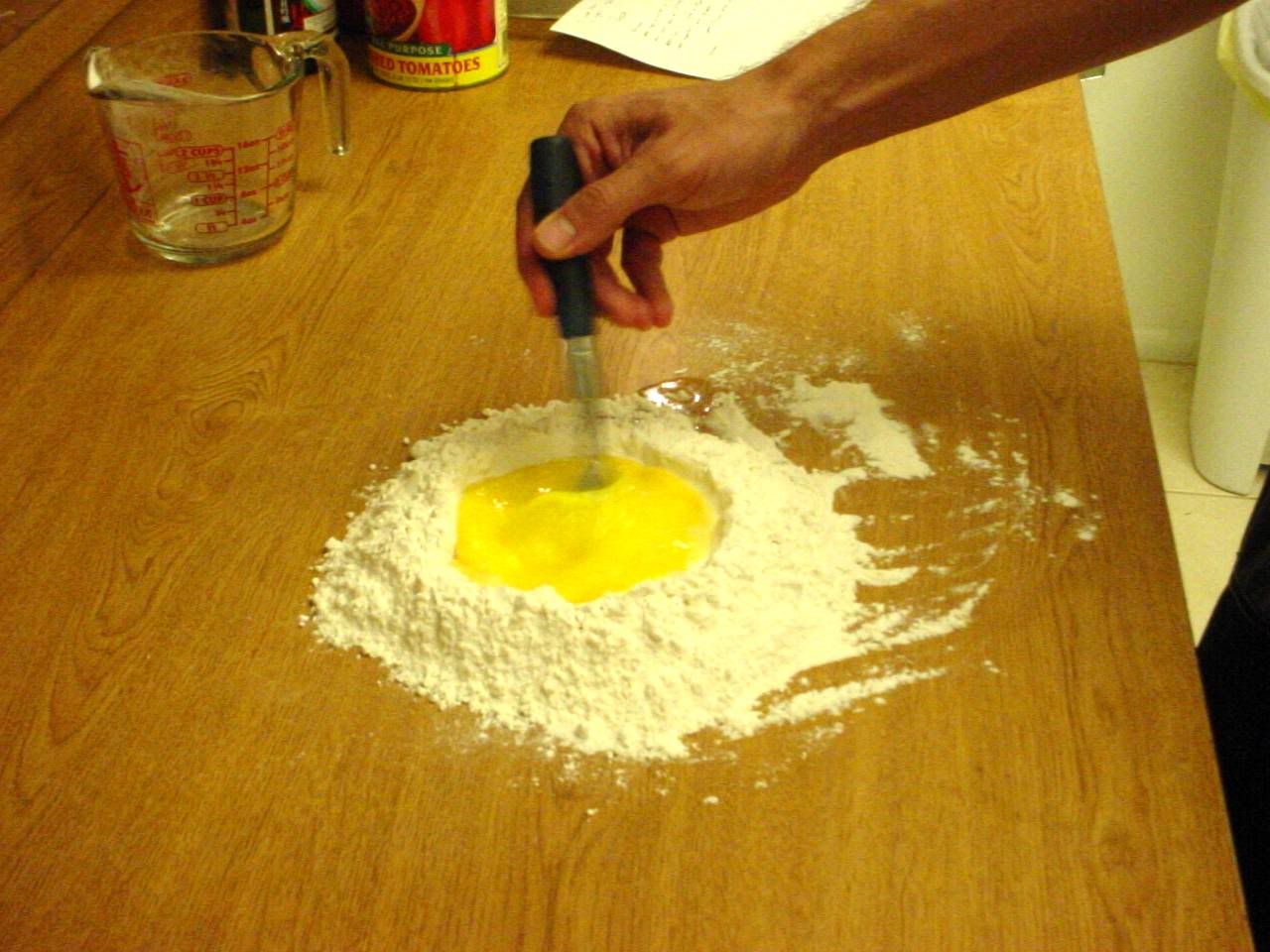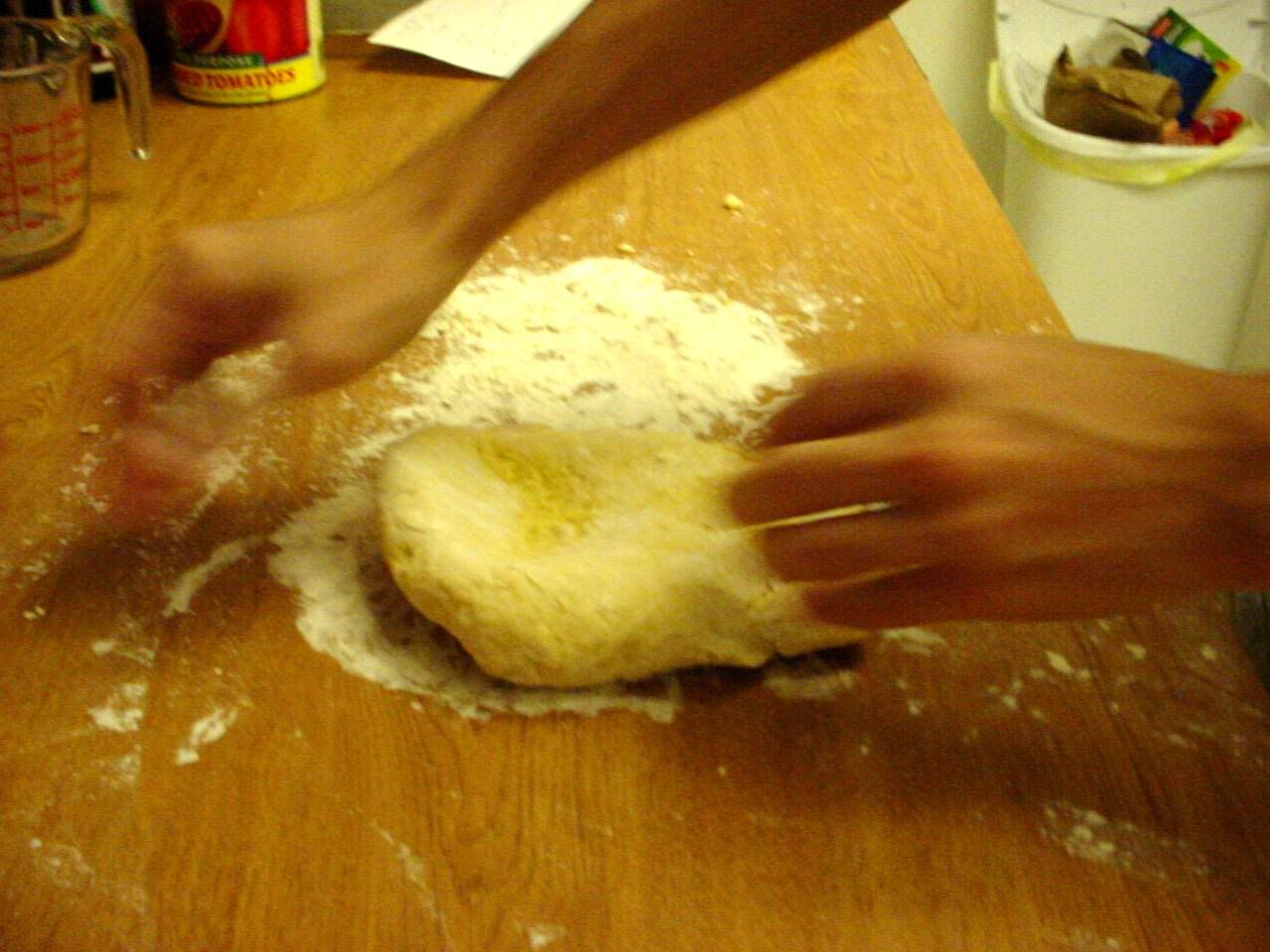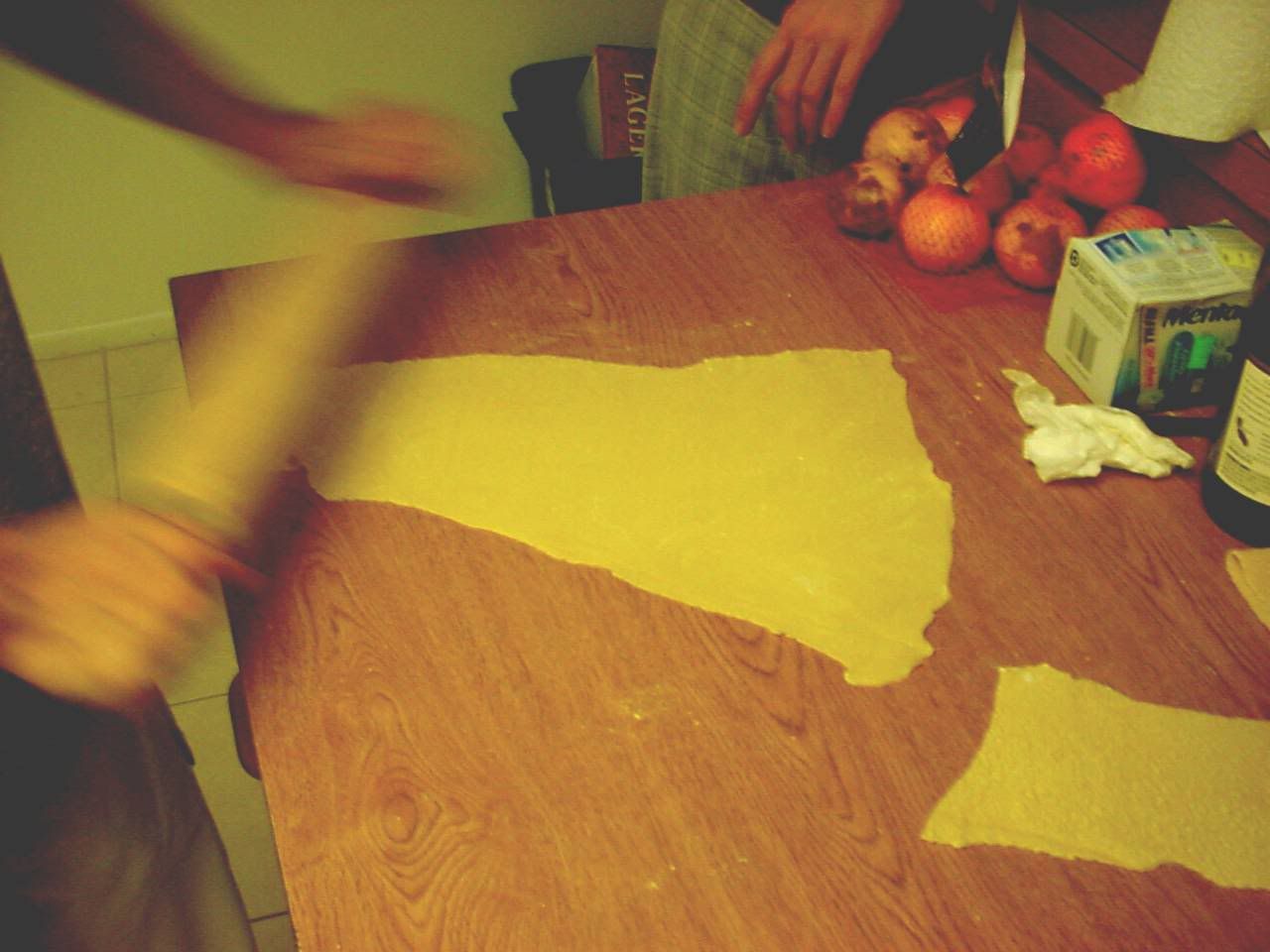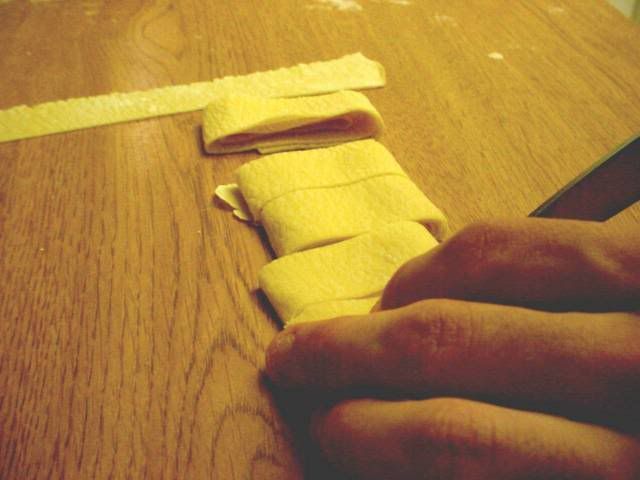 (I've altered this recipe to reflect the non-machine approach)
Total time: 1 hour
2 cups unbleached flour (or semolina flour)
1/2 - 1 cup flour for kneading
4 large egg yolks
Salt
1. Pour the flour onto a work surface, shape it into a mound and scoop out a deep hollow in its center. Break the eggs into the hollow. Beat the eggs lightly with a fork for about 1 minute. Draw some of the flour over the eggs with the fork, mixing it in with the eggs until the eggs are no longer runny. Draw the sides of the mound together with your hands, pushing a bit of the flour to the side and reserving it.
2. Work the eggs and flour together, using your fingers and the palms of your hands, until you have a smooth dough. If it is still moist and sticky, work in more flour. To test the dough to see whether it has enough flour, rinse your hands and dry them, then press your thumb deep into the center of the dough mass. If it comes out clean, no more flour is needed. If it comes out sticky, add more flour from the reserved portion.
3. Knead the dough by hand, using the heel of your palm to press down on the dough, then turning and repeating the motion until you have kneaded the dough for 8 minutes and it is very smooth. You may want to let it set for a few minutes and resume until its quite elastic.
4. Cut the dough ball into 4-6 pieces and roll out until its as flat and long as possible. A rolling pin does wonders, but if you're a glutton for painstaking work you can use a wine bottle. We then hung the long flattend sheets to dry on a clean broom handle. Once they were somewhat dry we folded them up loosely along their length, making a flat roll about 5 inches wide at its sides. With a sharp knife we then cut the roll into ribbons, about 1/2 to 3/4 wide wach. Cut parallel to the original length of the pasta strip so the tagliatelle will be the full length of the strip.
5. Fill a large pot with water and bring to a boil. Add salt and the pasta and cook for 2 to 4 minutes, until tender but still slightly firm to the bite. Drain and toss with sauce.