I rarely eat tempura for a very simple reason. When I go to a Japanese restaurant, I want sushi. This makes sense. But I do enjoy tempura, and since I happened to have a brand new wok on Saturday, I decided to make up a batch. With a two nice appetizers and the help of Aj and Liz, it turned into a really nice meal.
What we had:
Bacon-wrapped enoki mushrooms
Sunomono
Shrimp and vegetable tempura
Serves 3-4
The first appetizer was easy to make and quite delicious, but unfortunately enoki mushrooms can be quite expensive so you don't get a whole lot of bang for your buck. First, take a small bunch of enoki mushrooms, which are mushrooms with long thin stalks and tiny buttons at the top. The diameter of the bunch should be about the same as that of the hole your fingers make with an "OK" sign. Unless you have huge hands. On second thought, if you have huge hands you probably have a bigger appetite, so go for it. And I guess this logic also applies to those with tiny hands, so adjust accordingly.
Cut off the dirty ends of the mushrooms, and while holding the clump together, tightly wrap a strip of bacon around the stems, starting at the bottom and working your way to the top, stopping before the buttons of the mushrooms. Use two strips of bacon if necessary, and drive a toothpick through the middle to hold it together. Repeat for as many clumps as you can afford. If you have a grill fired up, yum. If not, you can do what I did, which is to place them on their sides on a small wire rack set in a casserole dish beneath a broiler for about 10 minutes or so, turning the appetizers once. When done, cut each wrap into two peaces, one with the bottom half of the stems, and one with the top half of the enoki. Remember to remove the toothpicks, unless you are dining with an enemy. The finished product will look something like this:
Next up was the sunomono salad. Sunomono basically means "vinegared things" This is a staple of Japanese restaraunts everywhere, and can range widely in presentation and taste depending on where you go. Usually it is brought to all diners before the meal is even ordered, and often times it will be little more than a tiny saucer with some cucumbers and a baby shrimp or two. Consider my version to be a tastier, mightier sunomono that will put many to shame.

Start by de-seeding a halved cucumber (English hothouse cukes are especially nice here) and slicing into rather thin pieces. Next, add some seaweed. Wakame is already cut into thin salted strips, and benefits from boiling and cooling before addition to the sunomono. It should be noted here that eating wakame makes your hairy shiny. If you only have nori --the seaweed used for makimono (sushi rolls) -- you can cut this into thin strips and add it to the salad. Next, boil 15-20 shrimp and place in the fridge to cool. Meanwhile, make the dressing by mixing:
4 Tbsp rice vinegar
1 Tbsp shoyu (soy sauce)
1 1/2 tsp. superfine sugar (I use x10 confectioner's sugar)
Add all your ingredients together in a bowl, pour the dressing on, and sprinkle the top with sesame seeds and tiny matchsticks of fresh ginger. That's it! Take a moment to view AJ's lovely presentation, then move straight on to the tempura.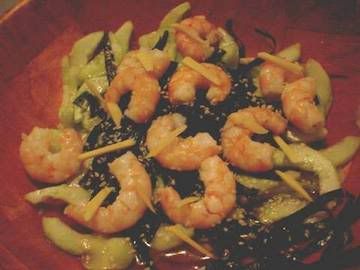 I was very excited to break in the new wok, even if it was just for some deep frying. The best thing about tempura is the lightness of the batter, so you get the taste of fried food without afterward feeling like you ate a bulldog.
First make the all-important tempura dipping sauce by mixing:
1/2 cup shoyu
1/2 cup mirin
1 2/3 cup dashi stock (1 2/3 cup water, 2 tsp dashi-no-moto)
For those of you not accustomed to Japanese ingredients, mirin is a heavily sweetened sake that has been compressed and filtered. Dashi stock is composed traditionally by boiling kelp and bonito (skipjack tuna) flakes. This method produces delicious stock, but can be time consuming and expensive. You can make do, like Kitchen Monkey, with a container of Dashi-no-moto, which is the equivalent of powdered chicken stock or boullion cubes. Many major supermarkets have mirin, but for the dashi-no-moto you'll probably have to find an Asian market that carries Japanese ingredients. Both mirin and dashi are essential for many Japanese dishes, so stock up!
Next you'll want to prep all your veggies and shrimp. There are a wide variety of vegetables you can use, including anything in the squash family, shitake mushrooms, green beans, or asparagus. However, we stuck with just a few essentials: sweet potato, carrots, and eggplant. The carrots should be julienned, the sweet potato cut into 1/4" rounds, and the eggplant cut into sticks a 1/2-inch or more on each side. Next prep the shrimp. Typically you want the shrimp to stay ramrod straight, which means driving a skewer through the top length of the shrimp and frying it on the stick. But having not enough skewers we simply butterflied the shrimp to allow them to hold more batter.
Speaking of batter, you'll want to combine:
1 cup Ice cold water
1 large Egg, beaten
3/4 cup sifted all-purpose flour (with extra for dusting the to-be-frieds)
Don't make your batter too early, because the ice-coldness is essential to the crispyness of the final product. Now you are ready to dip! The Korean woman at the Oreintal Market and Gifts store recommended soybean oil, but the stuff is relatively expensive, so I went with good old vegetable oil--about 2 cups. Once the oil is piping hot dip a handful of veggies and/or shrimp into the batter and ease them into the wok. Ease them in.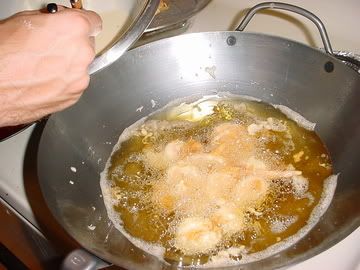 I must credit AJ, who bears more frying experience than I, with noting that the easing of too many veggies/shrimp will bring the oil temperature down and result in a less crispy exterior. Tempura should be eaten as soon as possible after frying, but if you want to serve several people at once, you can make those little pieces wait in a warm oven until everything is done. To serve, pile in the center of a plate with a bowl of dipping sauce on the side. I garnished the tempura with a little mound of freshly grated daikon radish and grated ginger for a palate cleanser with a little kick.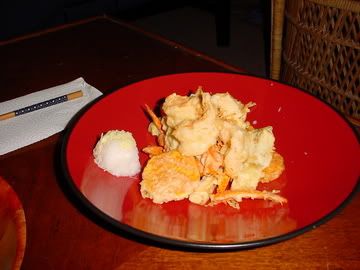 The tempura was delicious and golden. The kitchen is still dirty.