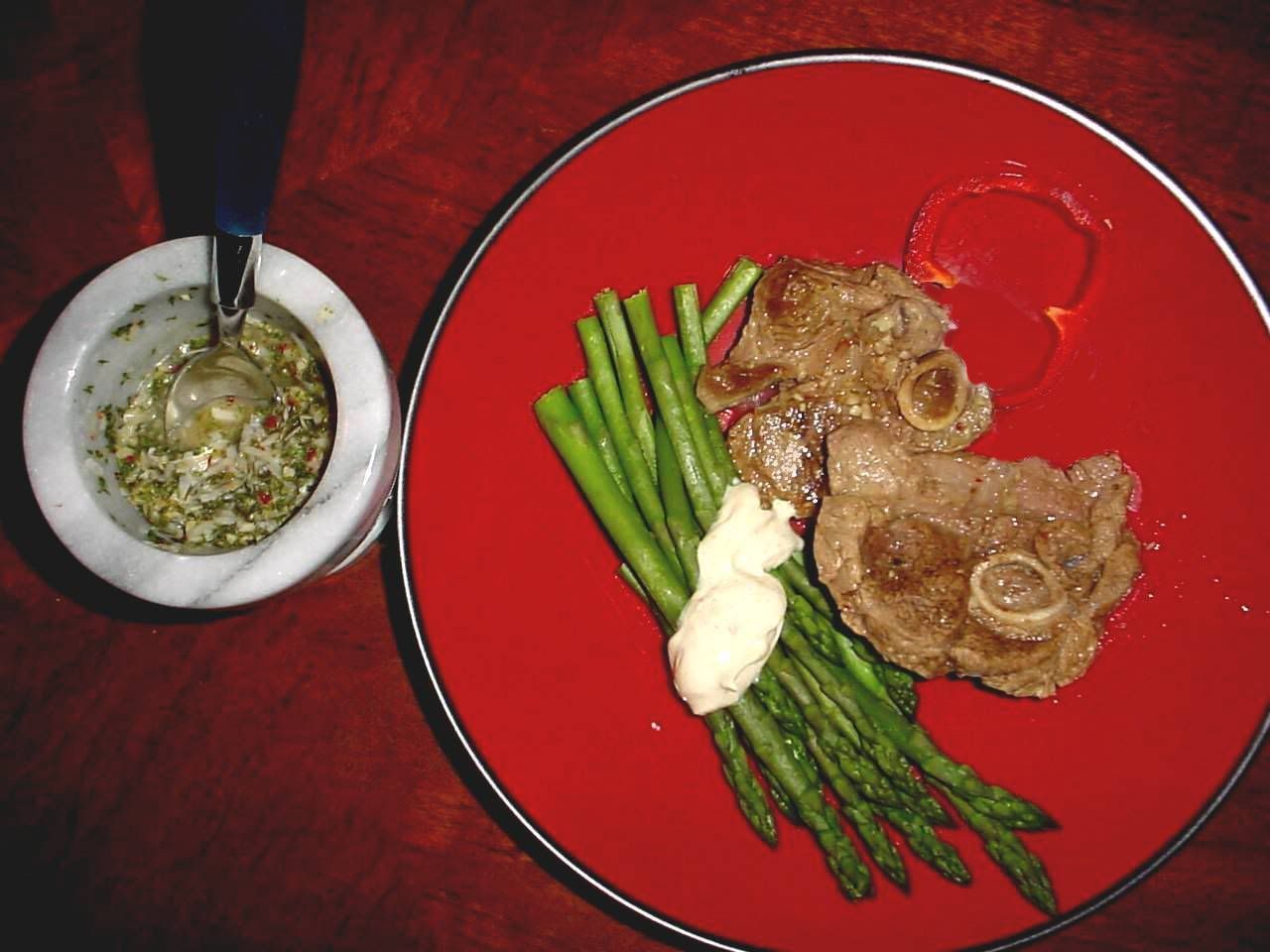 I'm crazy about lamb. Maybe this is partly because my family never ate it when I was a kid, but I think it's more because the rich flavor lends itself so well to many of the Mediterranean, Middle Eastern, and Indian spices which I also happen to be crazy about. For this recipe I decided to experiment a little, not following any particular recipe, but using ingredients that occur frequently in Middle Eastern and Indian cooking. You could use any cut of lamb for this, but shoulder is often cheaper, even though it does require extra effort to trim the fat. Braising the lamb leaves it extremely tender and the flavor will stand alone, but I'm a huge fan of simple mint chutneys, and a bit on the side or with every bite of lamb enhances its flavor even more. As far as that white dollop on the steamed asparagus: sour cream mixed with a little salt and a little curry powder. (Ashley gets credit for this, and she should tell me where she got the idea. It works with all sorts of veggies but is best with aspargus.) Note that the lamb may not be extremely photogenic, but tastes like a little piece of heaven.
Braised Lamb
Serves 4
Ingredients:

4 Lamb Shoulder Chops, with bone
1/2 Spanish onion, diced
Spice Mixture: 3 dried red chilies, minced
2 cloves garlic, minced
1-inch piece of ginger, minced
1 tsp. coriander
1/2 tsp. fennel (ground or crushed seeds)
1/2 tsp. star anise (crushed or powdered)
1/2 tsp. cinnamon
Juice of 1 lime
2 Tbsp. olive oil
Braising liquid: 2 Tbsp. olive oil
1 1/2 cups chicken or lamb broth
1/4 cup white wine
1/3 cup milk
Instructions:
1) Trim as much fat as possible from the lamb without decimating the shoulder. Some fat is OK. Accept this and move on to the next step.
2) Lightly salt the lamb. After mixing the spices, lime juice, and olive oil (in a food processer if you have one) coat both sides of the lamb and let it marinate for 1/2 hour.
3) Heat 2 Tbsp. olive oil in a heavy-bottomed, large sauce pan on high heat. Sear the lamb on both sides to lock the moisture in.
4) Once both sides are browned remove the lamb, and pour a little bit of broth into the pan to deglaze it, then add the rest of the braising liquid and bring it to a low boil.
5) Return the lamb to the pot, allowing the boil to continue for a minute or so, then bring the heat down to medium low.
6) Let the lamb simmer for at least 45 minutes, with a tight-fitting lid keeping the moisture in. You can turn the heat down a little bit further if necessary. Serve with mint chutney!
Mint Chutney
Ingredients:
1/2 cup fresh mint leaves, minced
1 red or green chile, minced
1 clove garlic, minced
pinch of salt
2 tsp. sugar
juice of 1 lime
2 Tbsp. shredded cocoanut
Instructions:

Combine all ingredients. A food processer will give it a smoother, more uniform consistency, but for a more rustic version like the one pictured you can crush the solid ingredients in a mortar and add the liquid afterward.