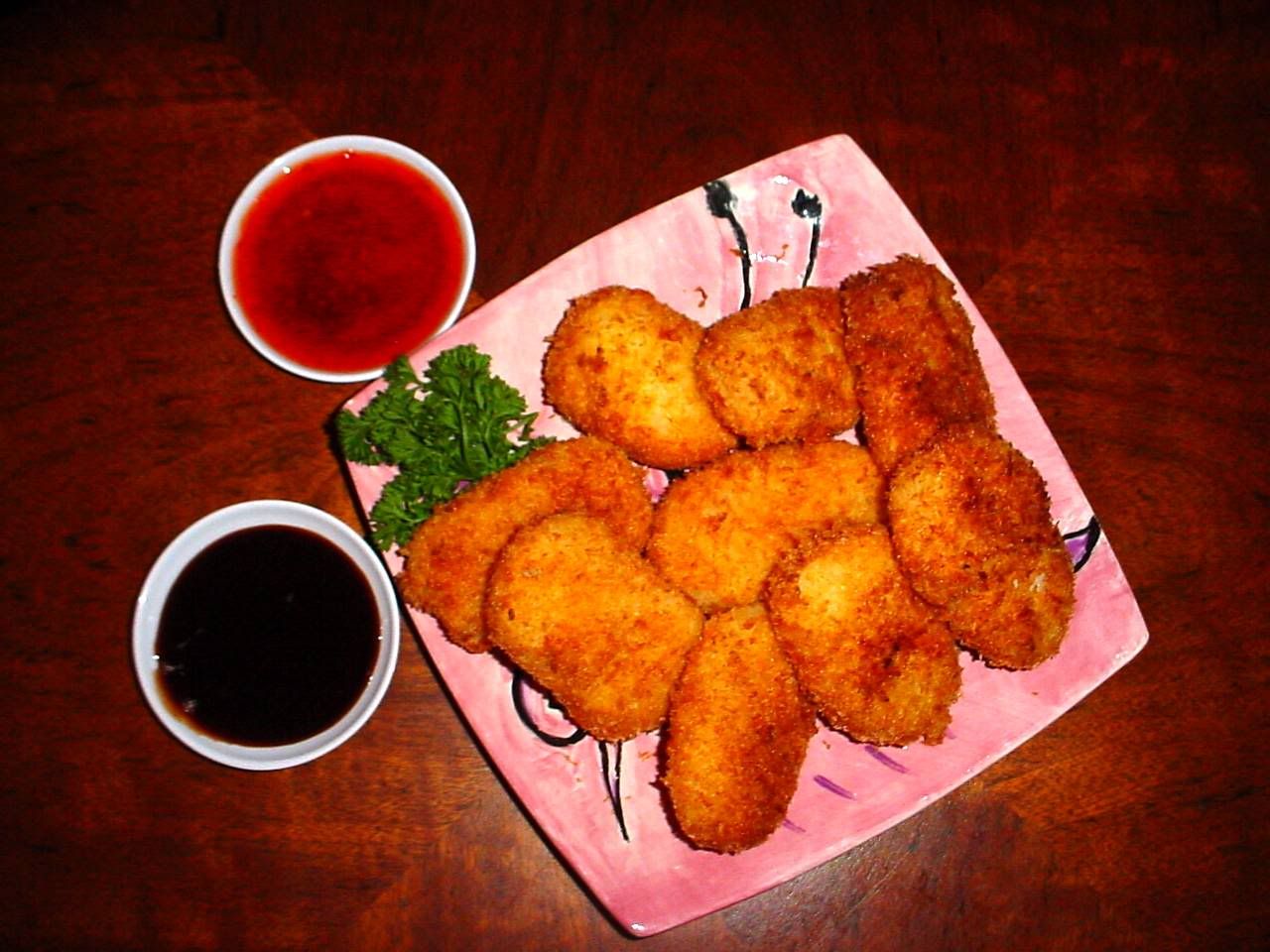 This was actually an appetizer I made on Sunday to eat before the braised lamb (see below). When I worked at Kitcho, a Japanese restaurant in Tallahassee, we made these killer potato croquettes, so I decided to replicate them. With Yucca. Kind of a fusion thing I guess.
I just happened to have a big piece of yucca in my coolerator, which I peeled, chopped, boiled, and mashed with some diced onion and a bit of milk. I then put it in the fridge to firm it up. In the meantime I prepped the breading, which was your standard flour/egg/crumbs. If you can find them, please use
panko
crumbs, Japanese breadcrumbs that have a large crumb size, almost no moisture, and a great texture. This gives the final breading a beautiful and very crunchy golden crust that doesn't absorb a great deal of oil. If you're lucky like me, your local supermarket sells panko in the "ethnic" section, if not, you'll have to find an Asian market that has Japanese foodstuffs. I enjoy getting to say "crumb size."
Once firm, form the mash into golfball-sized shapes and then flatten out a bit, so that the pieces are about 3/4 inch thick. Coat in flour, beaten egg, and panko until you have all your pieces ready. Heat about 2 cups of oil over medium heat in a wok or deep pan and fry the croquettes 3 at a time, for a few minutes, until the breading is about the color you see in the photo above.
Serve with whatever dipping sauces you fancy. We ate these with
tonkatsu
sauce, a Japanese fruit and vegetable sauce that is typically eaten with
pork katsu
(essentially pork cutlet deep fried with the same breading process as these croquettes). I love katsu sauce, and find that it has a taste vaguely similar to worcestshire, but with more fruityness (Beki claims it tastes like Dr. Pepper, I disagree). The other sauce, always a big hit, was something Nick turned me on to. It is a Thai sweet chili sauce made by Mae Ploy. It is fantastic, very versatile and went perfectly with the croquettes. Here is a picture of a woman enticing you with a bottle of Mae Ploy Sweet Chili Sauce. Do not resist her.