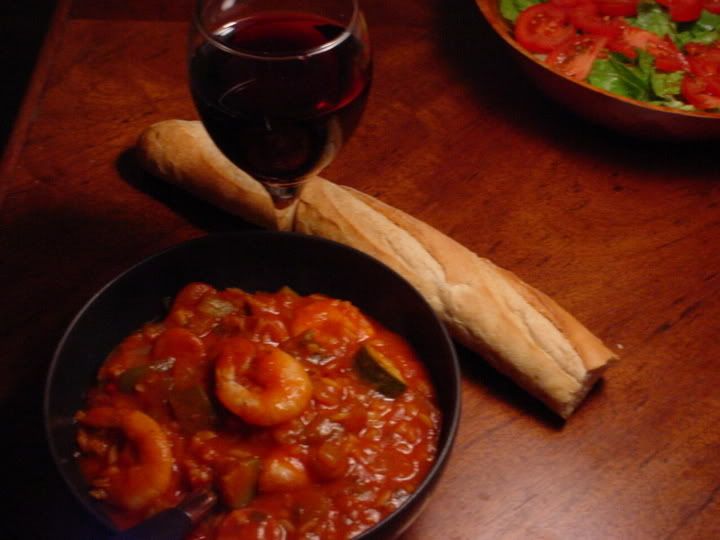 This is the third time I've made Jambalaya in the past two months, and I think I finally nailed it. It is not a traditional recipe by any means. I have no cajun roots. I've been to New Orleans only once, and primarily ate sushi and Thai food. We did get some good late-nite BBQ at a great dive bar called Snake & Jake's Christmas Club Lounge, where you drink for free if you're naked. I did not get naked.
Anyhow, I'm really happy about how this Jambalaya turned out. I can't give a recipe with precise amounts, but Jambalaya doesn't seem like something you should make with a precise recipe. I added some of my own variations, such as a roux, which typically goes into gumbo, but not necessarily jambalaya. I used pinot noir, which gave it a nice flavor, brown sugar, and fennel seeds. Other than these items, everything else can be found in most of the Jambalaya recipes out there. Here goes:
Ingredients:
Andouille sausage (sliced into 1/4-inch pieces. Use smoked sausage if you can't find andouille)
1/2 pound to a pound of shrimp
3 medium size zuchinni (chopped)
1 large onion (chopped)
2 green peppers (chopped)
5 stalks celery (chopped)
5 cloves garlic (minced)
5 small red chiles (minced - I used chile arbol)
1 bunch fresh parsley (chopped)
red wine
1 large can of crushed tomatoes (try a can of imported crushed roma tomatoes...great flavor)
1 1/2 cups chicken stock
1 cup long grain rice
oregano
thyme
fennel seeds
flour
butter
Loose Instructions:
1) Heat some veggie oil in a big stockpot or saucier (medium high heat), and toss in the onions, celery, peppers, and zukes. Once the onions are transluscent, toss in the chiles, garlic and the parsley and stir for a few more minutes. Savor the aroma. The amount of chiles to put in depends on the kind of chiles and how hot you like it. I used small, dried chile arbol with most the seeds and the heat turned out perfectly. Your call.
2) In a separate pan, saute the slices of andouille to render out a little bit of the fat and give them just a bit of crispiness. Then add to the veggies.
3) At this point, add the oregano, fennel, thyme, and half the chicken stock, and let everything simmer in it over medium heat until the stock begins to evaporate a bit. Now add the entire can of crushed tomatoes, the andouille sausage, one or two spoonfuls of dark brown sugar, and about 2/3 cup of red wine. Pinot noir works well, but a cabernet would also be good.
4) In a small sautee pan or sauce pan, melt 1/3 stick of butter, more if you want. Once it is melted add a little bit of flour at a time, stirring constantly, until you get a nice thin, gravy-like consistency. Keep stirring, adding more flour if necessary, until the roux takes on the color of cardboard. Sorry, tried to think of a more appetizing comparison. Couldn't.
5) let the roux stand aside and add the rice to the jambalaya mix. The burner should be on medium-low by this time. Give it all a good stir, and go read a magazine for 15 minutes while the rice is cooking.
6) Did you enjoy your magazine? Good. Now you'll want to add the shrimp and the roux. Leave the shells on the shrimp for extra shrimptastic flavoriciousness. Stir the roux in and you sauce will begin to thicken. If it gets too thick, add more chicken stock and/or wine. Once the shrimps are cooked, your jambalaya is done.
7) Put on some Hank Williams Sr., have a cold lager or a glass of pinot noir, a good crusty bread, and allow the party to commence.
Side note: we did not actually have any good crusty bread. The bread you see in the photograph looks good, but it was at least four weeks old and hard as a rock.