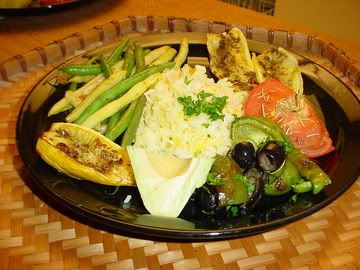 With all the red meat we've been eating lately it was time for a smörgåsbord of green and yellow vegetables. Maybe it was more of a medley, but honestly how many times will I get to use the word smörgåsbord? Incidentally the word
smörgåsbord
originates from a combination of Swedish and Norwegian dialects, and means "bread and butter table." Smörgåsbord. Say it aloud, repeatedly, in a Swedish accent for fun, especially if you are at work and there are people around.
Now then, as I said, it was time for a little Vegetable Atonement. The meal was relatively simple, but very tasty and very pleasing to the eye.
We had:
Baked Spicy Yellow Squash & Rosemary Tomatoes
Roasted Green Peppers & Olives
Sauteed Green Beans and Wax Beans with Garlic and Wine Sauce
I started by cooking some basmati rice with a liberal amount of saffron stirred in for color and flavor. While it cooked I prepared a spice mixture for the little yellow squashes. It involved coriander, oregano, dried red chiles, a garlic clove, kosher salt, and peppercorns, all of it ground up in a mortar with olive oil added afterward.
The mixture was spread on the face of the halved squashes and they were set on a baking sheet along with two halves of a tomato. The tomato halves were drizzled with olive oil and sprigs of rosemary. Everything went into the oven to bake at 400 degrees for about 25 minutes or so.
The wax beans were mixed with the green beans, washed and snipped, and sauteed in butter and olive oil before adding minced garlic and a little white wine.
In the meantime I roasted green pepper slices in our toaster oven, of all places, since I do not have a gas burning stove, yet. Someday. Sigh.
The peppers once finished were mixed with black olives and chopped parsley and drizzled with good olive oil.
Everything was arranged around the rice, and finished off with a slice of avocado.
Smörgåsbord.