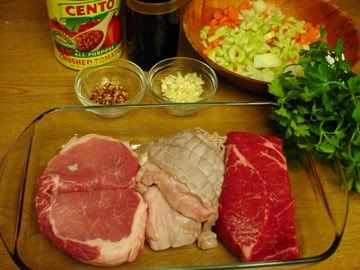 So as you can probably see, Kitchen Monkey is still on a meat binge that verges on being, well, primal. It can't last. Not at this pace. I was already thinking of easing off when Marsha from Texas told me about a butcher she goes to in Bradenton called the Chop Shop. It was a small place, charming enough, with very fresh cuts of meat. As you can see I purchased a nice butterflied pork chop, a veal roast, and a sirloin steak. What to do with this much meat? Well, how about another ragu. Ragu Napolitano this time, which in many ways is similar to the
Ragu alla Bolognese
I made several weeks back, using slightly different ingredients and substituting the ground beef with thick chunks of the meats you see above. I personally liked the Bolognese better, no offense to the people of Naples. Why another ragu so soon? Well it just so happens that I spent Wednesday honoring veterans by purchasing the pasta machine I've been wanting. So it was all I could do to wait until Saturday night to use it.
Saturday began, as many of them do, with a trip to the Red Barn Flea Market in Bradenton, Florida. The Red Barn is an enormous mecca of southern culture, with a little bit of multiculturalism thrown in just to make things odd. Nick from "I'm Cookin Here" has some beautiful pictures of the produce market at the Red Barn in
this post
.
Once I get some good pictures of my own I'll create a post revealing the majesty that is the Red Barn in its entirety. For now it's enough to say that we loaded ourselves down with good, cheap produce (avacados 50 cents!) and ate some wicked good (and authentic) Mexican food. Did you know that the French word for avacado is
avocat
, and that the French word for lawyer is also
avocat
? Hurt on the job? Talk to our personal injury avocados.
Also got a dozen pickling cukes which are now sitting in my fridge surrounded by garlic, fresh dill, red chiles, coriander and salt. Does the fact that I used kosher salt make the pickles kosher? If anybody knows please enlighten me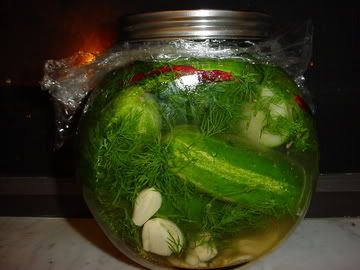 Actually, before the Red Barn we hit an Indian market in Bradenton, called India Bazaar. Picked up some garam masala and a package of Bombay Mix, which is a crunchy mixture of nuts, fried gram flour noodles, and
moong
, which is a kind of lentil. Much more savory than any American snack mix. A little spicy and a lot of tasty.
Here is the pasta machine, operated by AJ and myself.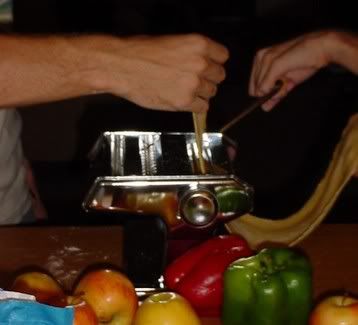 Here are the sheets of pasta, drying on a make-shift rack in the kitchen.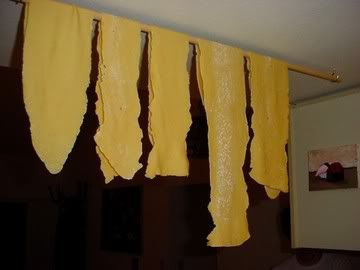 After feeding it through the fettucine slot of the machine, we ate it with the ragu. Not too shabby. Nick made a delicious dessert with custard and pears, as well as a delicious sauce with white wine, sun-dried tomatoes, and leeks, which was to accommodate Page, the lone vegetarian in my circle of carnivorous friends.
Aftwerward we went to the Cock n'Bull, a local beerhall that boasts hundreds of beers from around the world. Chocolate Stout from England? Scottish ale made of seaweed? Honduran lagers and pumpkin lambics? Got 'em all. I had a lager and my usual draught Spaten Optimater, which you must pronounce with a Schwarznegger-like Austrian accent. As in: I vill haff Schpa-ten Ope-ti-mate-uh.