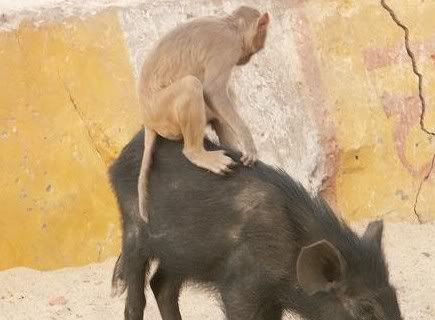 Hello my fellow primates,
Kitchen Monkey won't be cooking quite as furiously in the next week, but there will still be some very interesting food (and drink) adventures in the coming days. For instance, tomorrow Nick (of
I'm Cookin' Here
), myself, and several others will be going to
Pig Jam
for some real southern culture and some awesome 'cue. For Pig Jam is, indeed, a huge BBQ contest. Don't confuse it with this Arkansas
pig jam
.
You have to love Florida. It's 78 degrees outside, it should be beautiful tomorrow for the contest, and it's mid-November. I'm sorry if I'm rubbing it in.
Anyhow, expect a full narrative and pictorial depiction of Pig Jam by Sunday.
Next week Kitchen Monkey is going up to D.C. to hang out with his sister, and NYC to hang out with friends; so while there won't be many posts during Thanksgiving Weekend, expect to read about his culinary adventures in our Nation's capitol. And if anyone reading this is from NY and knows of a killer, never-fail sushi restaurant somewhere in or near Manhattan (I don't want to, and can't, spend $100, so something reasonable) let the monkey know!
Cheers