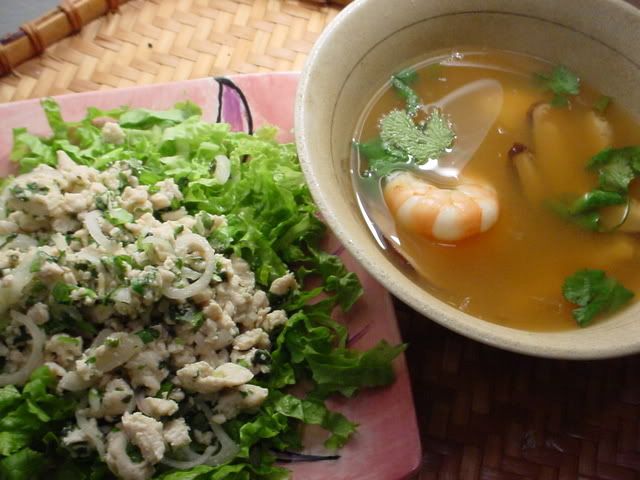 Yesterday Nick and I embarked on a three-hour culinary quest that took us to four different markets and two different cities. It started at an Indian market in Bradenton, where Nick picked up some ingredients for a seafood curry he'll be making soon. We then zipped over to the Red Barn farmer's market, where we gorged on tostados and tacos al pastor at Maria's taco stand. Afterward, I picked up some great-looking tomatoes ($1 for about five tennis ball-sized 'matoes) the longest leek I've ever seen, and some serrano peppers.
We then hit Wong Kai imports, where I purchased a package of frozen galangal (for the soup) and a box of green tea frozen pops. They were tasty and refreshing but also strangely floral and not really very green tea-like. Nick noted that they tasted like perfume, and they did--but in a good way, if you can imagine that.
We then headed back to Sarasota where we stopped at an Asian market that specializes in Thai and Vietnamese groceries. They had an interesting variety of meats, including pig brains and various unidentifiable whole fishes. But I was there for the mint, the cilantro, and the lemongrass. Alas, they didn't have kaffir lime leaves for the tom yam, but i made do with some lime zest, as per the suggestion of chef Madhu Menon from Shiok Far-eastern Cuisine. I had other recipes for tom yam, but I'm a fan of Madhu's site so I thought I'd try his.
I adhered to it for the most part, though as I said I had no lime leaves. I also started with chicken stock, but since I was using chicken for the salad I wanted to use prawns for the soup, so I combined the original recipe with Madhu's suggestion for making prawn tom yam. I added about two extra cups of water, and using a bit of cheesecloth I wrapped the prawn shells and let them simmer in the soup for about 30 minutes before the final stages, so it was really more of a shrimp-and-chicken stock. It's bonafide. And
here's the original recipe
.
If you've never had it, consider tom yam as not so much a soup as it is culinary therapy. It's heat hits the back of your throat, not your tongue, so it has (for many) the pleasing effect of draining your sinuses and producing a nice endorphin rush
without
burning your tastebuds to the point where all trace of flavor disappears.
The larb is delicious as well, without the heat. The flavor combination of mint, cilantro, lime juice, and toasted rice powder is great, and provides a nice break from the intensity of the tom yam.
LARB GAI (Thai Chicken Salad)
Serves 4

1 Tbsp jasmine rice
2 tsp veg. oil
1 lb minced chicken breast
2 Tbsp fish sauce
1 stem of lemon grass, white part, chopped and crushed
1/3 cup chicken stock
1/4 cup lime juice
3 spring onions thinly sliced diagonally
4 shallots, sliced
1/2 cup finely chopped coriander leaves
1/2 cup finely chopped fresh mint
1 head of green leaf lettuce
1/4 cup unsalted peanuts, chopped
lime wedges to serve

1) Heat frying pan over medium heat and dry-fry the rice until it is golden-brown. Move rice to a mortar and grind it into a fine powder.
2) Heat wok over medium heat. Add oil, then add minced chicken and cook for about 5 minutes.
3) Add fish sauce, lemon grass, and stock, cook for 10 minutes more, remove wok and cool.
4) Transfer to bowl*, stir in lime juice, spring onion, shallots, coriander, mint, and ground rice. Mix.
5) Arrange letuce on plate, top with chicken mixture, sprinkle with nuts, serve with lime wedges.


*This step is primarily to save the seasoned coating on a carbon steel wok from the lime juice. If you have a non-stick wok you can mix everything directly in the wok.