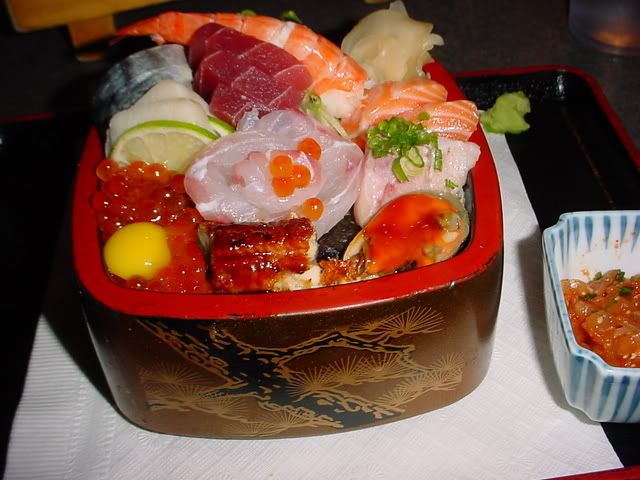 Over the weekend I went up to Tallahassee to see an old friend, and I'm not talking about the bowl of fish you see here--although I could be. Kitcho is the Japanese restaurant where I worked when I lived in the state's capital, and it has to be one of the consistently best sushi restaurants I've been to. Sure, there are places in Sarasota that have better yellowtail, places in NYC that have a wider variety, and places in DC that have more atmosphere.

But if sashimi is your thing, nothing can beat Kitcho's chirashi for variety, freshness, and reasonable price. Chirashi, for those of you who typically eat rolls or avoid sushi altogether, is simply a bowl of sushi rice topped with a variety of sashimi. One of the great thing's about Kitcho's chirashi is that it comes with miso and a salad that most people choose to top with "Kitcho dressing," which is a creamy garlic dressing that induces many people to forgo propriety and literally drink the remaining dressing once the salad is eaten. The chirashi may have a variety of fish, but typically you get tuna, yellowtail, grouper, octopus, eel, conch, shrimp, and tomago (a japanese omelette-like egg piece made with sake and tamari). I'm not a huge fan of the 'pus--so I had mine substituted with ikura (salmon eggs). They were kind enough to top the ikura with a quail egg, which is a tiny orb of salty goodness. The side dish? Grouper with kimchi. Damn straight.

This is Yuichi Mori, the owner and head sushi chef. A good guy with a great restaurant. Please don't call him Luigi.