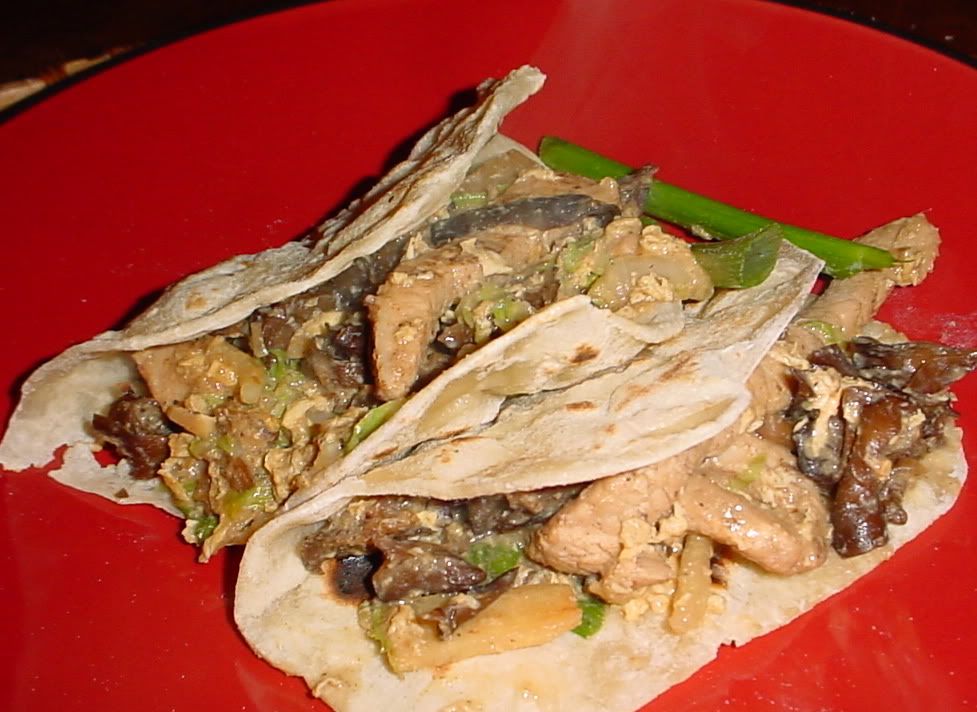 "Mu shu" is said (by a website I found) to mean "forest blossom." This could be a reference to the presence of lily buds in the traditional recipe. Or it could be because the monks that created it worshipped in a monastery surrounded by flowers, deep in the forests of Ban Bi Dian (I just made that up).
It is, hands down, my favorite Chinese dish, and I was excited to find a recipe for it in my new "Essentials of the Wok" cookbook. I immediately bought all the ingredients I could find and set about distorting the recipe to suit my own malevolent ends.
First of all, I couldn't find lily buds. Second of all, in my trip to the Asian market I forgot to pick up some Chinese rice wine, so I used sake, which I almost always seem to have a bottle of. There is a lot of mutual political antagonism between China and Japan right now, so this is my own little way of trying to bring the two nations closer together.
I posted the recipe in the comments, since it is rather long. It requires a lot of preparation, but you can make extra pancakes and freeze them, drastically cutting down on prep time. Check with your Asian grocer, you may even be able to buy the "pancakes."