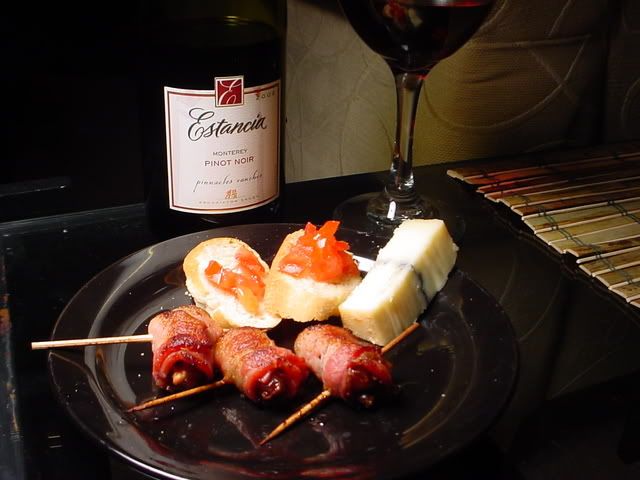 On NPR today they had a brief story about how sales of Pinot Noir have spiked since the release of the movie Sideways, which would have been funny enough if we hadn't been drinking pinot noir while we were listening to it--pinot noir which we were inspired to purchase because we saw the movie Sideways last night. I felt like a bit of a dork, but since that occurs on a fairly regular basis, I was able to see the humor in it.
In any case, we enjoyed the wine with some Morbier cheese, which is good n' stinky, and has a streak of vegetable ash in it, whatever that might be. Liz tells me that the ash divides the two sides of the cheese, one half of which is the "morning milk" and the other half is the "afternoon milk." How she knows these things is a mystery to me.
The bacon appetizers are easy enough. Stuff some pitted dates with pecans or walnuts, wrap the whole thing in a lovely strip of bacon, and bake them all until they are done. Delicious.