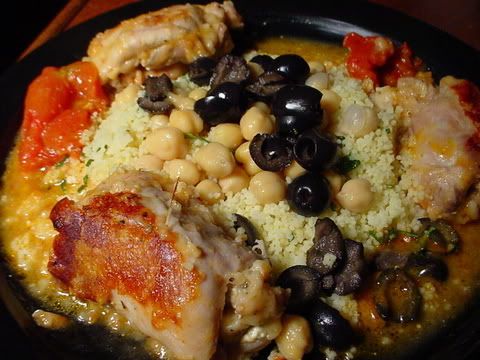 I'm always looking for new uses for feta cheese. I have incorporated it into omelettes, sandwiches, and meat and seafood dishes of all kinds. If somebody made feta ice cream, I would probably try it. I love its flavor, its saltiness, and its texture, whether fresh or melted. I like its name: "FETA." Like some sort of sleek and heroic, but briny, Greek God who protects the children of sailors.
This dish is an amalgamation of 3 different recipes, and it turned out great, although using chicken breasts instead of chicken thighs might make the going a bit easier. But all I had were thighs, and dark meat tastes better anyhow. The recipe involves making a paste from feta, lemon juice, and oregano, which is then sealed inside the pounded-flat chicken with skewers or toothpicks. The thighs are then sauteed with tomatoes, broth, and other ingredients.
Is it a summer dish? Perhaps, but then, in Sarasota it reached 78 degrees today.
Serve it with some nice cous cous, some olives (Calamata would be best, but all I had at the time was an can of ol' Californian,) and some pita or flatbread. Your friends and family will enjoy it, and your children will be well protected, sailor.