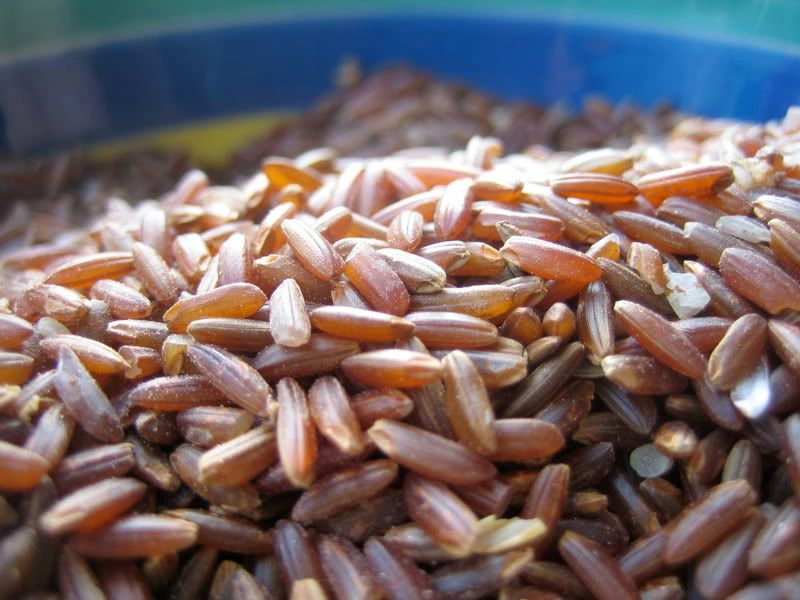 How fortunate that I've become ill. You see, a couple days ago I roasted a chicken--the typical fare: garlic and rosemary inserted under the skin in several places and basted in its own juices along with some chicken stock--and had quite a bit leftover. If not for the fact that I seem to be coming down with a chest cold, I probably would not have stumbled on the idea of making this delicious soup, when I should have instead been studying for my Criminal Procedure and Evidence exams.
I have had a bag of Himalayan red rice in my cupboard for far too long (I bought it at a farmer's market in Sarasota) waiting for some enticing recipe to come along. My patience finally worn thin, I used it today in my own variation of the old standard: chicken soup.
Himalayan red rice is similar in texture and flavor to brown rice, and may even taste a bit nuttier. The rice you see above is uncooked. Once cooked, it opens up much like brown rice, which could serve just as well in this soup. There are other ingredients which could be substituted with the ones below. I just used what I had on hand.
Calvados is a French apple brandy with an alcohol content of about 40 proof. The kind I had in the cupboard was made strictly for cooking. I should have heeded the label's warning: "seulement pour les alimentaires." I tried a small shot and spat it out immediately (in a fine spray, for comedic value). It was flavored with pepper and a little bit of salt.
If it didn't make for a good apertif, it did add a great flavor to the soup. However, since
some
people don't have a bottle of calvados sitting around, I have to say that white wine or sherry would probably work just as well. Also, normally I probably would have used all chicken stock, but I had some beef stock left over from last week's bourguignon. It added a nice, extra richness to the soup.
Now if you'll pardon me, Kitchen Monkey needs to take an Emergen-C and a nap.
Red Rice and Roast Chicken Soup
Serves 6 - Cooking time approx. 2 hours. Prep time approx. 45 minutes.
1/2 roast chicken - shredded or chopped (I used the breasts for other meals, putting one on a salad, and used the thighs and drumsticks for this soup).
1 cup red (or wild brown) rice
4 cups chicken stock
1 cup beef stock
1/2 cup Calvados (or white wine or sherry)
1 sprig fresh rosemary - minced
small handful chives - chopped (you might use thyme instead)
2 bay leaves
4 medium-sized carrots - sliced
1 large onion - chopped
3 celery stalks - chopped
3 cloves garlic - minced
1/2 lb. mushrooms - oyster, porcini, crimini, or even just good old fashioned white
3 allspice berries
salt and pepper to taste
(1) Shred the chicken and set aside
(2) Combine stock and calvados in a large pot over medium-high heat.
(3) Wash rice repeatedly then add to the pot.
(4) In a large sautee pan, sautee the carrots, onion, and celery in olive oil for about 10 minutes, adding the garlic toward the end
(5) Once the pot is boiling, turn the heat down to low, and add the vegetables, the mushrooms, the herbs, and the chicken, along with some salt and pepper.
(6) keep at a simmer for at least an hour, preferably longer. Add salt and pepper to taste, eat with some good crusty bread, and start feeling better as soon as possible.
Incidentally, the picture below demonstrates that I used much more rice than the recipe above indicates. I wanted to use all the red rice I had on hand, but next time I would use less.