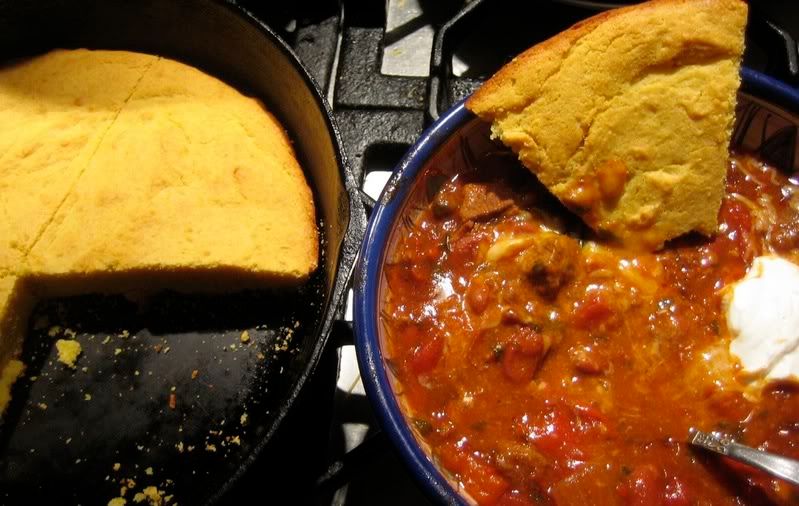 I call this Five-Pepper chili because it has five kinds of peppers in it. Yes, I know, it's clever. It took me forty seconds to think of this name, but that's OK. I was willing to devote this kind of time and attention to finding the perfect name because this is the best chili I have ever had.
Maybe I am biased, but I am also capable of admitting, when the occasion arises, that I have made something that is less than fantastic, or even out-and-out slop. For example, just the other day, a combination of apathy and distraction (Tom Waits was on NPR) led to the most awful omelette I've ever made. I wouldn't have served this omelette to my worst enemy.
But I digress. The point is, this chili is GOOD. I'm sure you've had better chili. Or rather, I'm sure you think you have. Chili is one of those things where everybody thinks they make the best version. That's as it should be, and I'm only too happy to partake in that proud tradition.
On another note, the picture above demonstrates what it might look like if Caravaggio did a painting of cornbread and chili, which I'm certain he would have, had such things existed at the time. Seriously. He was into still life, and was fond of using white, red, black, and light tan colors. It also has his trademark geometric angles and
deep chiaroscuro contrasts.
OK, I obviously need some sleep. Here's the recipe.
(Addendum, written following day: I really did need some sleep. When I posted this last night I included tomato peppers as one of the ingredients. I meant "cherry" peppers. Nick was kind enough to bring it to my attention. Tomato peppers do not in fact exist. Thanks Nick).
KM's Five Pepper Chili: Recipe
(note: this makes a LOT of chili. Probably enough to feed 12 people)
2 lbs. stew beef, cut into approximately 1/2-inch cubes and salted.
1 lb. ground beef
2 Tablespoons coriander seeds, ground
2 Tablespoons ground cumin
Extra virgin olive oil
1 bunch Parsley, chopped
4 cloves garlic, minced
4 red bell peppers, chopped
4 jalapenos, minced
2 dried ancho chiles, minced
2 cherry peppers, minced
5-7 canned chipotle peppers with sauce, minced
2 large onions, chopped
2 cups kidney beans
2 large cans diced tomatoes
8 oz. beer (I used Sierra Nevada Pale Ale - Delicious!)
1 1/2 cups beef stock
1 Tablespoon dried oregano
7 Allspice berries
1/3 cup tomato paste
salt and pepper to taste
(If you have a dutch oven, such as a Le Creuset or All Clad, the initial stages can be done on the stovetop with the stewing done in a 225 degree oven. If you're using a large pot, such as a stock pot, then the stewing will be done on the stovetop at the lowest heat setting)
(1) put a generous amount of olive oil in the pot and brown the beef chunks, in batches if necessary. Remove.
(2) put more olive oil in the pot, once it is hot, add the cumin and coriander, and let it fry for 1 minute, then add the ground beef, stirring until it is browned. Remove.
(3) Add more oil, then add the onions. Carmelize. Remove.
(4) Add more oil, then the chopped peppers and parsley. Sautee until soft. Remove.
(5) Add the garlic and all the minced chili peppers. Sautee for two minutes. Add the beer, and simmer for two more minutes. NOTE: If you want this to be really hot, leave the seeds in. If you want it to have a medium heat, leave the seeds out or add just a few.
(6) Add all the former ingredients back into the pot, along with the kidney beans. Add the beef stock, diced tomatoes, tomato paste, allspice, and oregano.
(7) Bring to a low boil, then turn down to a simmer (whether in the oven or on the stovetop), covered, for one hour. Then simmer uncovered for another hour. You may choose to let it stew even longer. I think mine simmered for almost four hours. Serve with cheese and sour cream if you like.