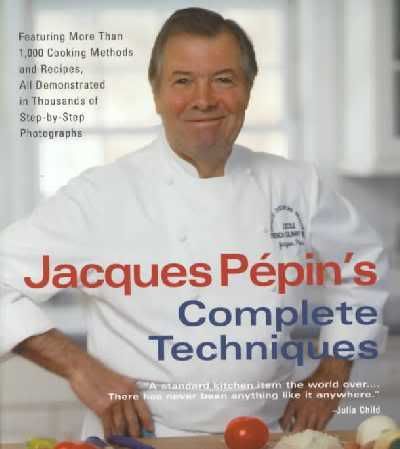 Jacques Pépin, whose eyes have no whites
I don't often buy cookbooks, and when I do I don't usually feel compelled to post about it. This one is a bit different, however.
After a Criminal Procedure exam on
Saturday morning
(how absurd is that?), a couple days working at the Superior Court, and a job interview with the D.C. Public Defender Service (for this summer), I have almost NOTHING to do for the next month. This means, of course, a great deal of
serious
cooking: and this, my friends, is where Jacques Pépin's book comes in.
There seems to be little method to my kitchen madness. I'm capable of enough dedication to make a coq au vin requiring three days preparation, but I burn at least half the grilled cheese sandwiches I make from carelessness. I make a fine ragu alla bolognese, but still consistently boil too much or too little pasta. I know how to apply a knife to an onion six different ways, but almost never make a perfect hard boiled egg. I bought this book in hopes of filling in some of the large gaps in my knowledge. My recent reading of Pépin's memoir,
The Apprentice
, alerted me to the book, and it arrived yesterday.
Jacques Pépin's Complete Techniques
is a combination of two earlier, out of print books, which cover all of the techniques and methods of French gourmet cooking in immense detail, with explicit step-by-step instructions and thousands of illustrative pictures. They range from the almost absurdly basic (how to peel an onion), to the practical (how to properly bone a chicken), to the whimsical (how to make decorative swans and flowers out of fruits and vegetables), to the baroque (how to lard a pheasant pâté and encase it in a decorative crust of breading). It's fantastic because, apart from multiple forays into coq au vin, boeuf bourguignon, and various terrines and pâtés, I really haven't done very much French cooking. I've been a sushi chef, am reasonably familiar with Italian, Thai, Vietnamese, Mexican, Indian, and even some West African cuisines, but French cooking is largely terra incognita for me. I don't even know how to make a crêpe. Not true for long.
Some of these recipes and techniques I will never use (e.g. the pheasant pâté), but others I really look forward to. I especially want to master the art of making a good sauce. The foundation of this is a good stock transformed into a demi-glace and perhaps even a glace, which I hope to get started on this weekend. From there, who knows. I'll start with some simple roasting and eventually work my way toward good pastry dough and maybe even boudin.
Hopefully by Christmas I'll have mastered a couple of these dishes well enough to impress my French sister-in-law, who is an excellent cook in her own right.