On November 7, 2006, Americans sent a clear message: "we are ready for a change." No longer would we tolerate the shoddy results of conflicting and outdated ideas. We wanted a new bread recipe. Yes, on the day and the day after a historic election, the number one most read and e-mailed article in the New York Times was not a narrative of a shift in Congress from the party of the corrupt and incompetent to the party of the hapless and eventually corrupt.
It was, rather, Mark Bittman's column as "The Minimalist" describing an amazing new method of making bread. The recipe is at the bottom of this post, maybe in flagrant violation of copyright laws. But hey, I haven't taken Intellectual Property Law yet, not until next fall, so who knows? Heh heh. Thousands upon thousands of Americans spent this past weekend making this bread, and its rewards are unmistakable. The secret is a long initial rising period (12-20 hours), followed by a 2-hour rising period, followed by baking inside a pre-heated, covered, piping hot dutch oven. The article suggested use of a Le Creuset type receptacle. Unfortunately, my budget has yet to afford me such a beautiful piece of cookware, so I made do with two large, deep cast iron griddles, and it worked beautifully.
After my initial attempt turned out well I made FOUR loaves the following day. Two of them were made with diced fresh rosemary, the other two with fresh basil and diced calamata olives. They were perfect. Crisp crust, soft but chewy inside. So good that I came home the next day to find out that my roommates had eaten an entire loaf! Guess I'll have to make more next weekend.
Oh, and sorry I haven't posted in a couple weeks. You know, the whole law school thing. A beintot mes singes.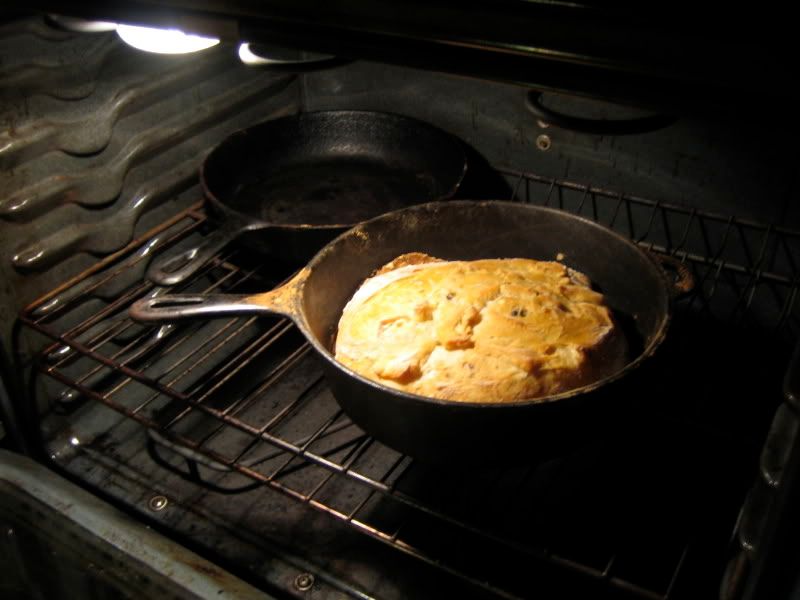 Adapted from Jim Lahey, Sullivan Street Bakery
Time: About 1½ hours plus 14 to 20 hours' rising
3 cups all-purpose or bread flour, more for dusting
¼ teaspoon instant yeast (rapid rise yeast)
1¼ teaspoons salt
Cornmeal, wheat bran, or more flour as needed.
1. In a large bowl combine flour, yeast and salt. Add 1 5/8 cups water, and stir until blended; dough will be shaggy and sticky. Cover bowl with plastic wrap. Let dough rest at least 12 hours, preferably about 18, at warm room temperature, about 70 degrees.
2. Dough is ready when its surface is dotted with bubbles. Lightly flour a work surface and place dough on it; sprinkle it with a little more flour and fold it over on itself once or twice. Cover loosely with plastic wrap and let rest about 15 minutes.
3. Using just enough flour to keep dough from sticking to work surface or to your fingers, gently and quickly shape dough into a ball. Generously coat a cotton towel (not terry cloth) with flour, wheat bran or cornmeal; put dough seam side down on towel and dust with more flour, bran or cornmeal. Cover with another cotton towel and let rise for about 2 hours. When it is ready, dough will be more than double in size and will not readily spring back when poked with a finger.
4. At least a half-hour before dough is ready, heat oven to 450 degrees. Put a 6- to 8-quart heavy covered pot (cast iron, enamel, Pyrex or ceramic) in oven as it heats. When dough is ready, carefully remove pot from oven. Slide your hand under towel and turn dough over into pot, seam side up; it may look like a mess, but that is O.K. Shake pan once or twice if dough is unevenly distributed; it will straighten out as it bakes. Cover with lid and bake 30 minutes, then remove lid and bake another 15 to 30 minutes, until loaf is beautifully browned. Cool on a rack.
Yield: One 1½-pound loaf.