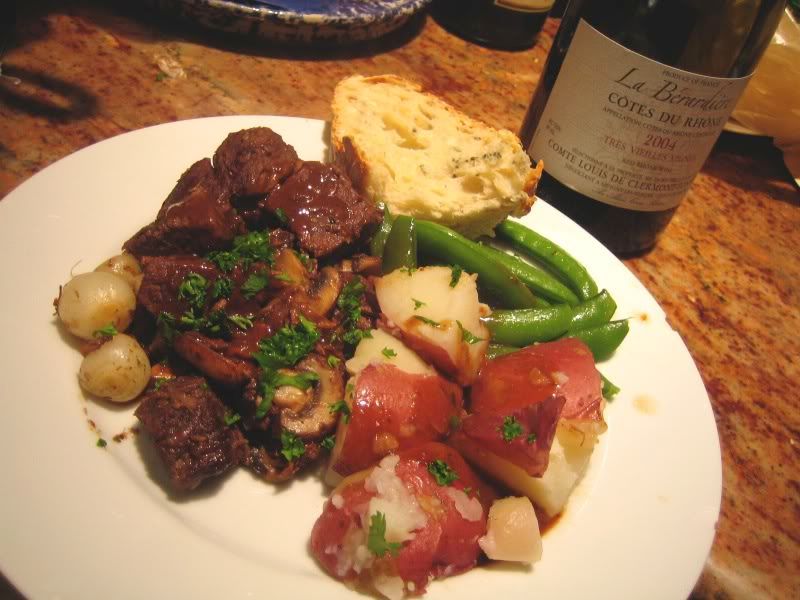 Last Christmas a friend gave me a copy of Jacques Pépin's memoir,
The Apprentice: My Life in the Kitchen
. It was a nice gift, but I didn't feel compelled to read it right away. I was in my first year of law school, and I knew little about Jacques Pépin except that he was a culinary bosom buddy of Julia Child's. I finally picked the book up last weekend in an effort to rest my brain from the infernal madness of the Federal Rules of Evidence.
It is really quite a read. The writing is good for a memoir--simple and direct--but more importantly his enormous enthusiasm for the culinary arts comes through on every page. He had an inspiring life, from a poor provincial upbringing to cooking for Charles deGaulle at a young age, followed by world reknown through his association with Julia Childs. By page 5 it had me drooling and achingly reminiscing about my stay in Paris and Montpellier a little over a year ago (ahhhh remembering
wild boar saucissions
and
canard au miel
).
At the end of every chapter is a recipe, none of which I've yet tried, but I intend to (and will certainly post about it when I do). In short, I recommend it to anyone who is either a francophile or crazy about inedible food.
Sorry, I meant "incredible" food.
I had been meaning to make Boeuf (pronounced behhhffff, as though a sock to the stomach just caught you by surprise) Bourguignon for some time now, but reading the memoir finally inspired me enough to do it. I adapted it from a few different recipes (including Julia Child's recipe from Mastering the Art of French Cooking), all of which shared the same basic elements.
Thanks to Tyler and Lily for being my guinea pigs. I'd rather cook for them than Charles deGaulle any day.
Boeuf Bourguignon
(this loose recipe serves about 6 people)
6 strips thick cut bacon
3 lbs. stew beef
1/2 large onion
2-3 Tbsp flour
3 cups hearty red wine (I used a Chianti)
1 cup beef stock
1 bay leaf
1 tablespoon fresh thyme
salt and pepper
pearl onions, peeled (easiest if you boil them with skins on for 2 minutes, then dunk in cold water, chop off the stem portion, then squeeze the onion out of its peel)
crimini mushrooms
(1) boil thick cut bacon for 10 minutes, then fry bacon in a large sautee or casserole
(2) remove bacon, and sear about 3 lbs. of cubes of stew beef, remove from pan and combine with bacon, after which you'll want to preheat the oven to 325 degrees
(3) brown sliced onions in the remaining fat
(4) return bacon and beef cubes to the pan or pot, add the two or three tablespoons of flour to the pot and stir to make sure the beef is coated
(5) place in the oven for 4-7 minutes, remove, stir, and return for another 4-7 minutes
(6) remove pan to the range on high heat, then add 3 cups or so of wine until boiling
(5) add beef stock, continue to boil, add crumbled bay leaf, thyme, and salt and pepper
(6) turn down to a simmer, then remove the pan to the middle rack of the oven
(7) allow to simmer in the oven for 2-3 hours
(8) about 15 minutes before removing the ingredients, sautee the pearl onions and mushrooms in a bit of olive oil and or butter until just barely soft.
(9) remove pan, and strain the liquid into a saucepan. Set the meat aside while the sauce reduces on high heat (thick, but not too thick!) Just before it is done reducing, heat up the beef , bacon, etc. along with the pearl onions and mushrooms until sizzling just a bit.
(10) serve up the beef, etc. and ladle a good bit of sauce over it.
I served it with green peas braised in chicken broth and boiled red potatoes tossed in a bit of butter and some parsely. The bourguignon sauce also tastes fantastic on the potatoes.
Yes, it requires some work. But make enough for leftovers (it tastes even better the next day) and you'll thank yourself.