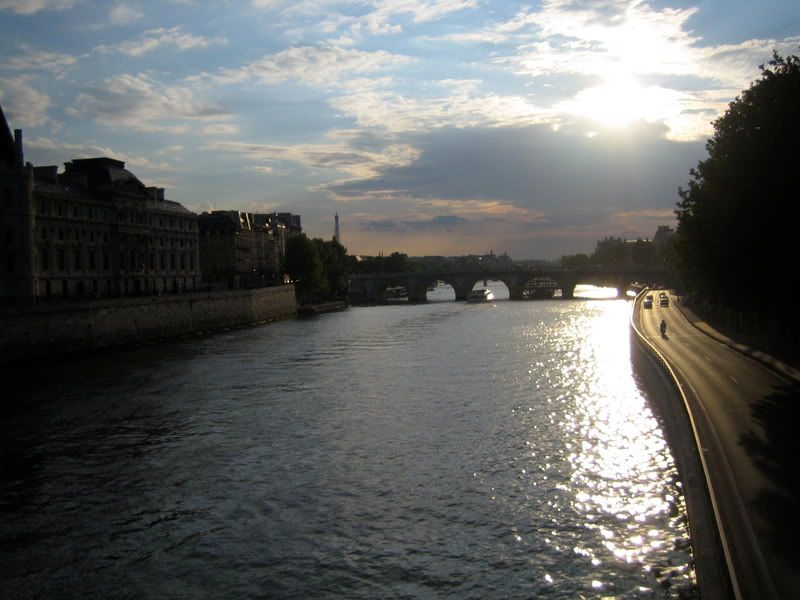 I recommend watching the sunset from one of the bridges crossing the Seine.
During the first Paris leg of my trip I stayed in a great part of the Latin Quarter, on Rue Mouffetard, which is full of great little shops, markets, bars, and bistros. Here's a picture of one fantastic seafood market. Keep in mind that this is
only the shellfish
section of it. They had everything you could want and more.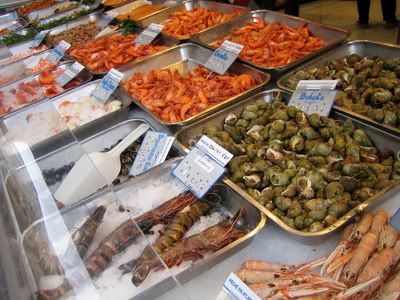 Speaking of shellfish, there were a number of occasions in both Paris and Montpellier when I ordered something with
crevettes
, expecting shrimp. I love shrimp. Oh boy do I love shrimp. But more often than not what I got were the little salad shrimps that, in the States at least, are sold in cans. So be aware of this, and when dining in restaurants be prepared to specify what it is you're looking for.
One of the restaurants on Rue Mouffetard looked interesting, and we decided to spend the 16 Euro prix fixe which included an appetizer, an entree, and a dessert. Bear in mind that on French menus,
entree
means appetizer, and what we consider an entree will be called
un plat
.
My two friends both had an awful salmon with dill sauce, not complimented by the side of boiled potatoes. My appetizer was avacado with salad shrimps and a sauce that tasted vaguely like ketchup and mayo. Disappointing. The main course was even worse. Two relatively flavorless lamb chops with an ultra-heavy garlic sauce and a side of overcooked green beans. The creme brulee was good, but by this time I was so disenchanted with the meal that I didn't even bother to write down the name of the place. I wish I had, to warn you away from it.
On top of this, the music was an annoying mix of house music interspersed with Rod Stewart's greatest hits. This leads me to another odd fact about France (after which I'll stop ranting and get back to the good stuff). The French popular taste in music is hard to figure out. I'm told that a law prohibits radio stations from having less than 35 percent of their playlists consist of French music. I felt this law seemed a bit oppressive, ridiculous even, until at three different points during my trip I heard store radios or club DJs playing the theme song from Friends. The law seems quite justified to me now, and I support increasing the restriction.
Enough curmudgeonry, on to the real fine dining. Two of the Paris chow highlights, apart from Sapporo Ramen, were
Royal Couscous,
and
Au Trou Normand
. Both are highly satisfying, mid-range restaurants near the Place de République. I would also recommend at this point staying at the nearby Hotel de Nevers. This hotel is not for those requiring luxury, but it is comfortable, affordable (35 euro for a single room, and if you share a room with two friends it will cost you about 22 euro each: less than many of the city's hostels), and the owners are incredibly nice, especially for being Parisian. A husband and wife own the place and work the desk most mornings, and you will often find one of their three grey cats wandering the halls. Very friendly cats too.
In any case,
Royal Couscous
is, of course, a Moroccan restaurant, located on the Boulevard du Temple. The atmosphere is great; intricate traditional wood paneling and nice lighting. I had an incredible lamb, onion, and olive tagine. Though it was just a tad too salty, it was some of the most succulent lamb I've ever had. Expect to spend about 12 to 16 euro.
Au Trou Normand,
located at 9, rue Jean Pierre Timbaud, is a bit more expensive, but if you can judge from just one dish, worth the price. The decor is nonassuming, the staff reasonably friendly, and the menu full of interesting dishes. I went for the
canard au miel
(duck served with a honey sauce garnished with chives) which was so juicy and delicious that I could have eaten twice the amount. Even the mashed potatoes and vegetables served on the side tasted fresh and perfectly cooked. An appetizer, a plate, and a carafe of wine will set you back about 20 - 25 euro. My mouth waters just remembering it.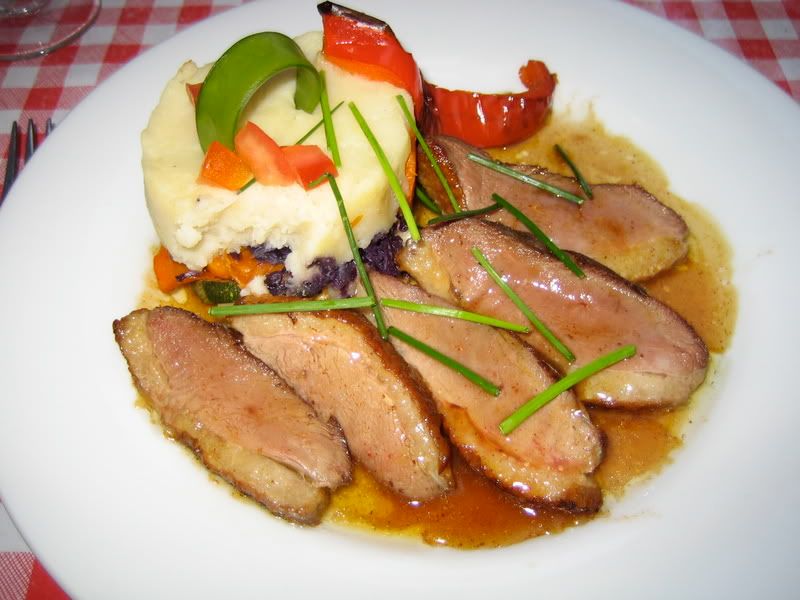 Oh, I should mention too that I found the name of the shop where I bought the
sausages
. It's "Saveurs d'Antan." Great stuff.
Another great highlight of the trip came toward the end, on a Saturday when we were roaming around north Paris and happened to see a sign listing the various bands that were playing jazz in the Parc des Fleurs, near the Chateau de Vincennes in southeast Paris. That day there happened to be an American jazz trio playing called
The Bad Plus
.
First of all, the park is astoundingly beautiful, with countless types of flowers, a large pond and an interesting fountain all serving as the backdrop for a large outdoor amphitheatre. The band was incredible. If you haven't heard them, they play mostly their own compositions--jazz ranging from avant garde to straight-ahead and everywhere in between--but pepper the set with great interpretations of songs by artists such as Aphex Twin and Bjork. They played tightly and with a lot of enthusiasm. I suppose its easy to play with enthusiasm when you're in a country where people actually give a damn about jazz.
The weather was beautiful, we drank wine on the banks of the pond and gave pieces of our baguette to two little girls so they could feed the bizarre-looking red-billed ducks. Being surrounded by people who are simply and naturally enjoying the hell out of life is contagious. And I'm moving to Washington D.C. in less than two weeks. Sigh.
That's it for now. If other good stories about the trip spring to mind I'll post them in the coming weeks, but for now its time to get back to some cooking. And packing. Lots of packing.
A bientot mes singes
.