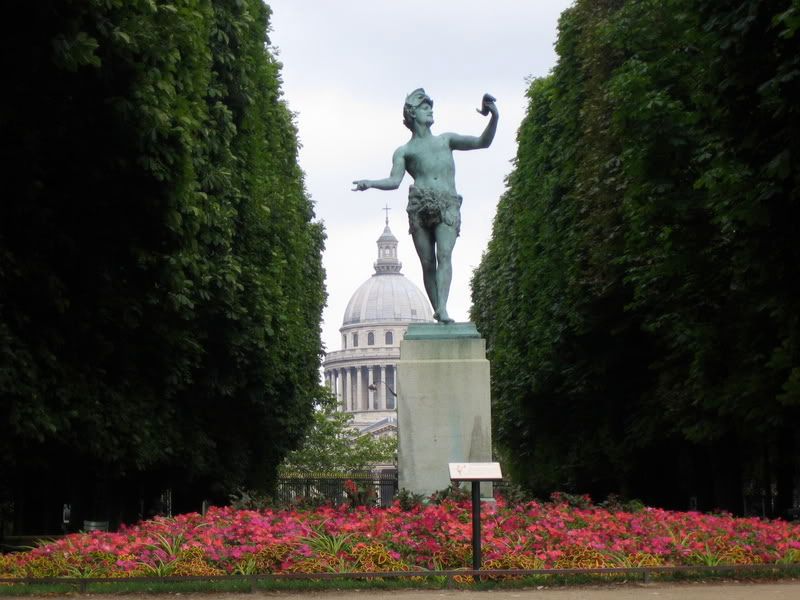 A nice view of the Pantheon as seen from the Jardin du Luxembourg. I think it might be a statue of Dionysus, saying to tourists "Please, drink wine in the park, for we French have no uptight anti-public-consumption-of-alcohol laws such as the Americans have." I was only too happy to take this advice. Several times.

Some friends of mine recommended a great Belgian brasserie on Rue Soufflot, which runs right between Luxembourg and the Pantheon. It's called La Gueuze, and for about 8 Euro they serve giant dishes of moules marinere, which, for the uninitiated, is simply mussels steamed in wine, butter, shallots, and herbs. You can also order it with creme added. Delicious. For a few euro more you can get a plate of fries on the side, a combo that is quite common in France and often seen on menus as "moules frites." La Gueuze also serves large glasses of various beers, the best of which is a Belgian ale called "Lucifer." Very strong and very delicious.
One interesting part of the meal was our extremely close proximity to a large and very boorish Russian man, who was unable to speak without bellowing. For over a half hour he dominated the conversation at the next table and occasionally overpowered ours, as he stuffed mussles and fries into his festering gob, mussel juice running down his chin and his hands, his face growing redder as he drank more and more ale. Finally, when the waiter cleared the table and asked if anyone wanted dessert, this same Russian pounded on his chest with one fist and grunted "creme brulee!" I should mention that his companions, also Russian, were quite well behaved. Wouldn't want to perpetuate any stereotypes, would we?

From a Slavic bear we move to French sparrows. A few breadcrumbs in any park in Paris will instantly make you a hit with the fat and ubiquitous pigeons. Perhaps to compete with these greedy oafs the sparrows have shed any fear of humans they might have and are perfectly willing to eat straight out of your hand--if you like that sort of thing. My two companions stripped the chocolate from a number of Malteasers, crumbled the malted candy within, and soon had a swarm of sparrows perching on their fingers and pecking crumbs from their palms. The two of them were delighted. As the swarm grew in numbers, all I could think of was Hitchcock.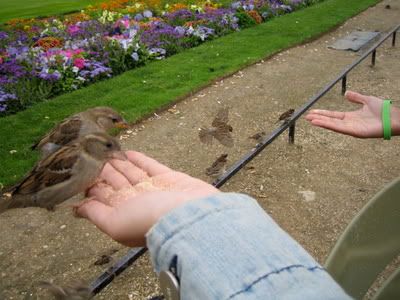 And now for the ramen. If you've read Kitchen Monkey for any amount of time, you're probably aware of my obsession with great ramen. From my first pitiful attempt, to a pilgrimage to Minca Ramen Factory in NYC, to a subsequent and much better attempt, I have sought out great ramen restaurants and recipes for the better part of a year now. In this vein, I present to you Sapporo - Restaurant Japonais, which can be found in easy walking distance from the Tuileries at 276 Rue St. Honoré. They even have fiberglass or plastic models of each of their ramen dishes in the window so you can see what your options are (don't be put off by these, since none of them look very appetizing).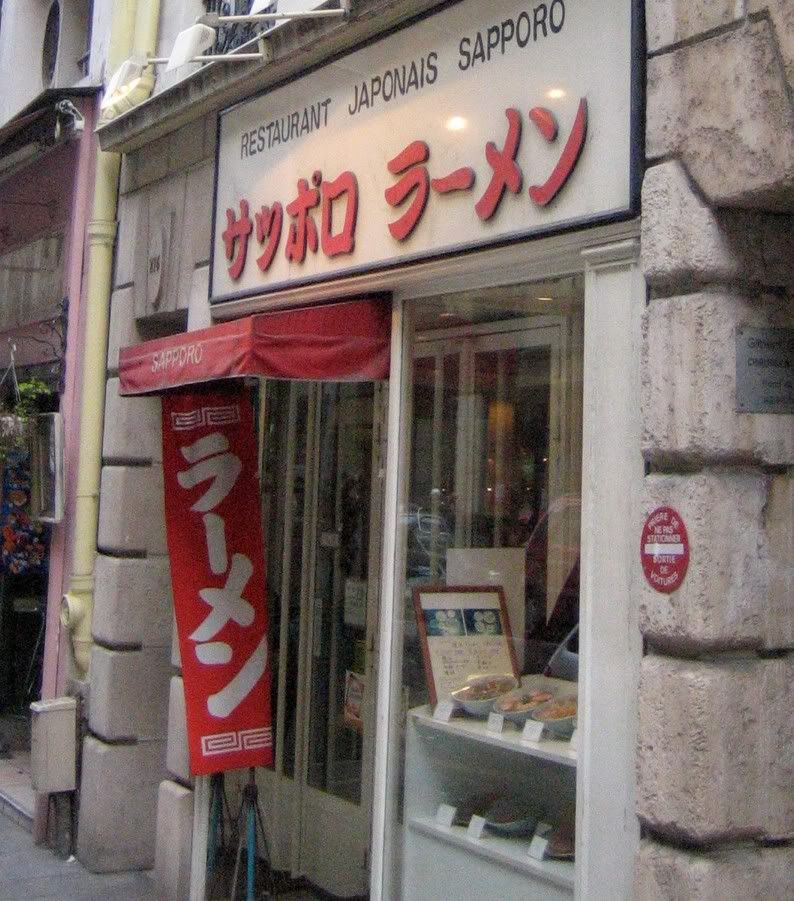 As far as ramen restaurants go, it's always a good sign when you see a lot of Japanese people eating there, and such was the case with Sapporo. The chashu ramen was so good I ate there twice, ordering the same dish both times. Its fun to hear French spoken with a Japanese accent, but greet the already friendly hostess with a "konichiwa" and say "arigato" when she brings your meal and she'll be even nicer. This hospitality can be refreshing after eating in a series of Parisian French restaurants.
Sadly, I did not get a picture of the ramen itself this time, but to tell the truth it was not as picturesque as the Minca ramen. The taste, however, was every bit as good. The only ingredients apart from the taro, the broth, and the noodles were some shitake mushrooms, a bit of spinach, and five heavenly slices of slow-braised pork butt. If you go for lunch you can get an order of gyoza and a bowl of ramen for about 10 euro; a pint of Asahi Superdry beer will cost you another five but will be well worth it.
Since I was sitting at the bar, right in front of the main kitchen area, I got to watch the chefs at work, and given the transcendence of the broth I was determined to get a picture when no one was looking. The dim lighting left it a bit blurry, but I'll be damned if I don't see two apples floating in the huge stock pot that contains the broth. Apples! It never would have occured to me, but next time I make stock for Japanese dishes I'll definitely throw in a couple.

I feel compelled to mention one other event. As my friend Liz and I were walking through the park toward an obligatory rendez-vous with the Eiffel Tower (which at that point bore a large neon sign reading "Paris 2012!") we passed by a curious sight. A very well dressed man was kneeling in the grass before a very beautiful woman, who was wearing a stunning peach-colored dress. He held in his hands the edges of the bottom of her dress, as what appeared to be a professional photographer focused a lens on the couple. Then, as quick as lightning the man lifted the dress up past the woman's waist to reveal her derriere, in all its stark, bare-assed nakedness. The camera flashed, and just as quickly as it began, it was over. As we passed beneath the steel spiderweb of the Eiffel tower, I thought to myself, "ahhh, Paris!"
Tomorrow we resume our time in The City of Lights with a great Morroccan restaurant as well as some cuisine from Normandy. Not to mention a great fishmarket and some sweet jazz!