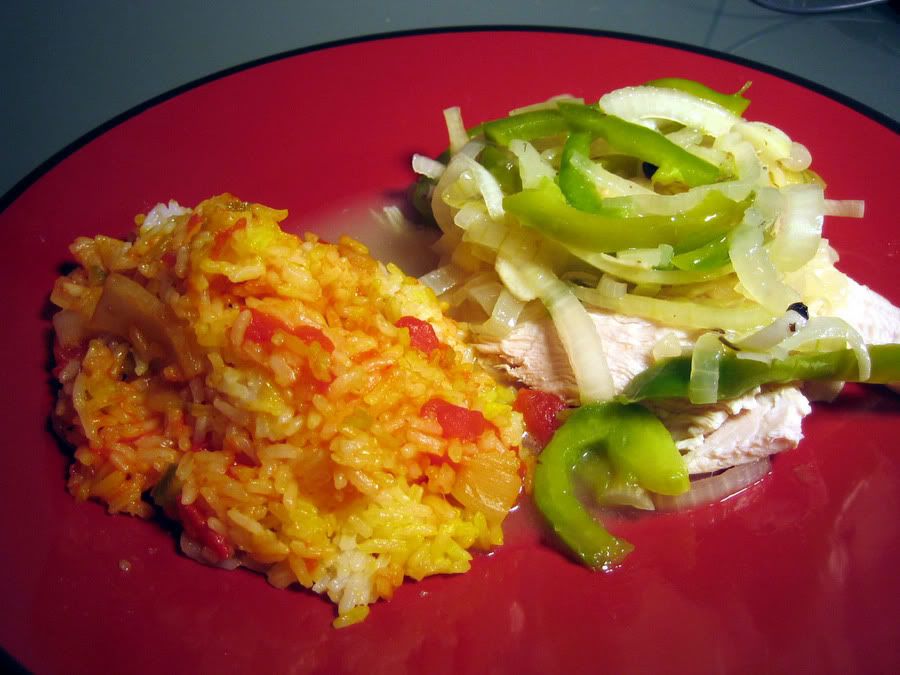 As Biscuit Girl noted, I haven't been posting all too frequently. This is mostly because I've been spending my evenings as "Justice Monkey"-- fighting crime in the gritty streets of Sarasota with my trusty sidekick Gibbon Boy, trying to rid the world of my evil nemesis, The Organ Grinder. If he gets his way, you'll all be wearing stupid decorative vests and dancing for money in a bleak, dystopian future.
I was in DC last weekend, might be in Gainesville this weekend, will be in Minneapolis the following weekend, and Grayton Beach, Florida the weekend after that for a wedding. A busy month, to say the least, but I will try to post more often during the week.
Due to lack of time and money I've been relying on the handy recipe search box on epicurious. If you haven't made use of it yet I highly recommend it, since you're bound to find something that includes the ingredients you have on hand.
This dish is a variation on traditional escabeche, a Spanish dish that usually features some kind of seafood. I happened to have a turkey breast half (on the bone) in the fridge, and found this recipe for
Turkey en Escabeche
. It was good, not great, I found that the turkey didn't absorb too much of the flavor. I'll definitely try the same recipe with shrimp or tuna though.
The rice on the other hand was delicious and very simple: Jasmine rice steamed with saffron, then mixed with freshly ground coriander, sauteed onions, garlic, tomato and green pepper.