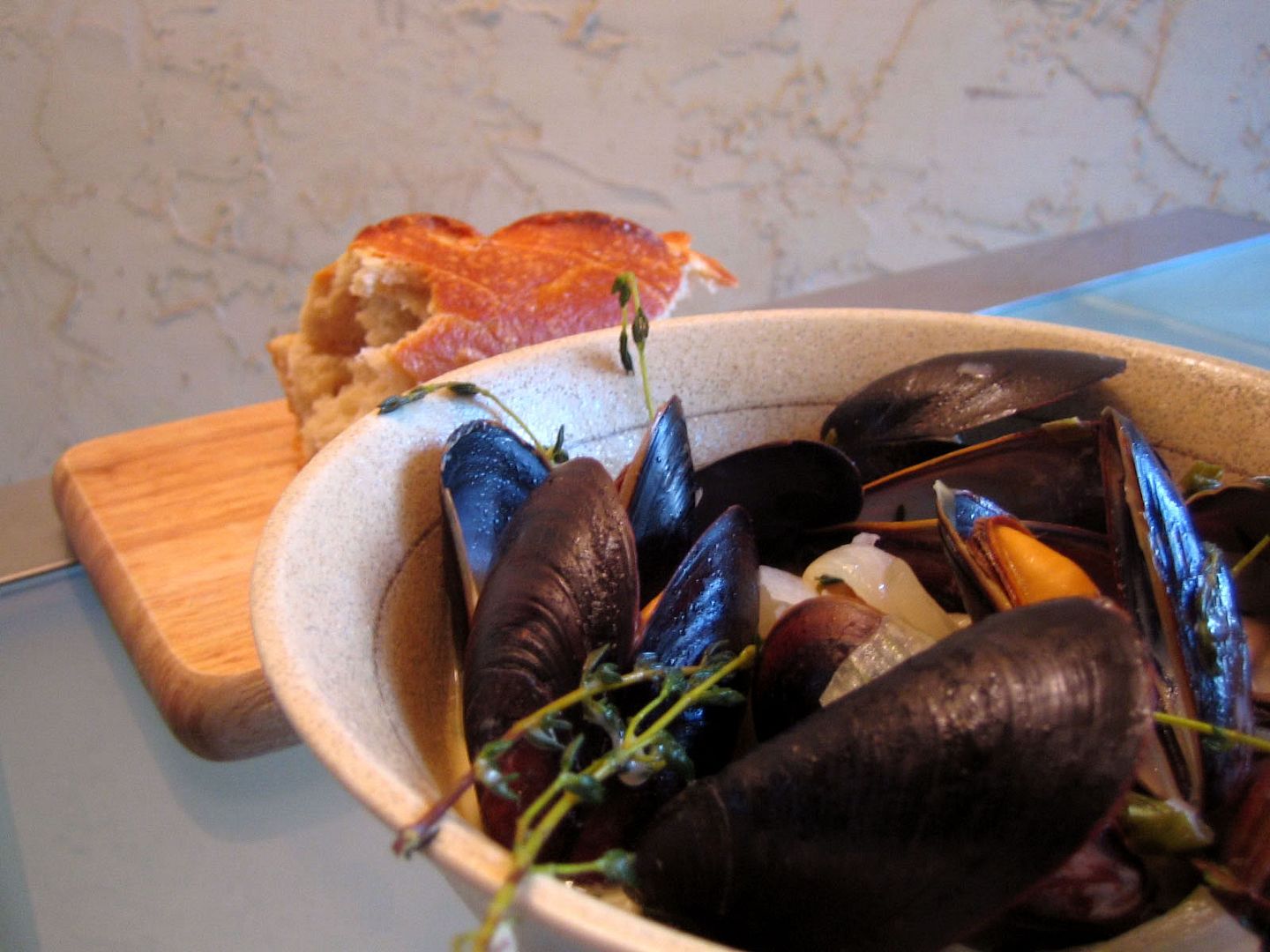 Wine, cream, and butter. The holy trinity of the devout epicurean. Together they produce a magic strong enough to bless many a dish, and this is probably my favorite. AKA "moules mariniere" without the cream, or "moules a la crème" with it. Famous at Belgian and French bistros, you'll spend significantly less if you make it on your own.

Difficult? Hardly. Expensive? Not really. Where I live, mussels are about $4 a pound. It really depends mostly on the type of wine you use. It is also quick (the whole shebang can be ready in about 15 minutes). Finally, it is delicious--perfect for sitting outdoors on your balcony while the sun sets. Eat while drinking a good white wine (I'm usually more of a red wine guy, but with this, a good pouilly fuisse is my favorite, or fume blanc). Enjoy with friends or a loved one and you are liable to see your entire life in a new, more optimistic light, at least until you have to do the dishes and dispose of the mussel shells.
I heartily recommend buying a good loaf of crusty bread to dip in the addictively delicious sauce. Fresh linguini is also a great option. As another alternative, if you have the wherewithal and motivation to make your own french fries (Belgian-cut, please), these too are delicious dipped in the sauce, and, of course, make up the traditional "moules-frites."
RecipeMussels with Thyme and White Wine Cream Sauce
(aka Moules à la crème)
serves 2
1 lb. mussels (de-beard if necessary and keep refrigerated until use)
5 shallots, sliced (or 1/2 large onion, sliced thin)
2 large cloves garlic, minced
1 handful of fresh thyme on stem
1 1/2 cups white wine
1/4 cup cream
4 Tbsps. butter
1 Tbsp. extra virgin olive oil
kosher salt and pepper
1) De-beard the mussels if necessary and keep them cold until ready to use. If any of them are open they might well be dead. If they are only slightly open, rap them on the side of a bowl or the counter. If they close up again, they're edible, if not, they are DEAD. If they are dead prior to cooking, do NOT eat. Dispose of immediately or possibly pay the horrible horrible consequences.
2) In a large, heavy-bottomed pot with a lid, heat the olive oil and melt the butter. Sautee the shallots and/or onions until translucent, then add the garlic, sautee for a couple minutes more, then add the wine and the thyme, stirring everything around.
3) Once the wine is bubbling, add the mussels. Put the lid on, and shake the pot a bit to coat them. Let stand for 5-7 minutes. By this time the mussels should have opened up. Those that haven't, you should discard. Add the cream, a bit of salt and pepper, and stir everything. Leave out the cream and you've got "moules mariniere."
4) Add some cooked, fresh linguini to a bowl (this is optional) spoon several mussels over the top, then ladle a generous amount of the delciously fragrant sauce over it all. Mop sauce up with crusty bread or frites!
And, in closing, I thought I'd post this somewhat zen-like bit of "engrish," brought to us from a chinese restaurant I went past in Minneapolis. Wouldn't you prefer this over "sameness soup"? I would. (click on pic to enlarge)