Hello monkeylings,
As you may have noticed, I haven't been posting much lately. This is due in part to how incredibly busy I've been with work, financial aid applications for law school, etc etc. and partly because most of my recent meals have been rehashes of previously posted recipes (such as the never-fail
ragu alla bolognese
and
lamb stew provencal
). I did make some a very large and very tasty homemade batch of split pea soup with lots of bacon. If you want some, I still have two containers of it in the freezer.
I will be posting again soon, later this week I plan on making one of my favorite dishes for a group of friends. Its an Iranian dish called fesenjoon, and its outrighteously good.
And one other thing. Dr. Biggles of
Meathenge
passed along this photograph, which is just too bizarre not to spread around. Somebody please explain.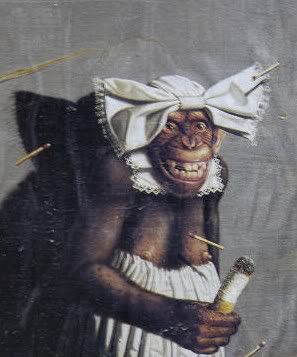 Cheers.