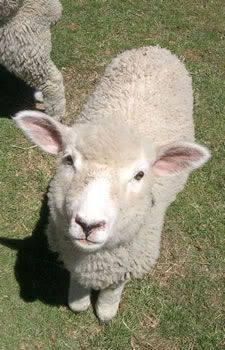 Look at that face. Who could eat something so cute? Well, me for example. Eschewing foods based on their cuteness seems odd to me. Is it any more humane to eat a fish just because most of them are rather ugly and alien-looking? If you had been in the Donner party would you really have gone for craggly Old Man Johnson instead of young, plump Sally Smith? OK, bad example. I'm getting way off track here.
I love lamb, but at this point in my life can't typically afford the ultra-expensive, ultra-tasty rib or loin cuts, which are often $10 a pound or more. Sometimes I'll go for the more cost-effective whole legs, but that requires enough people to eat it all and defray the cost. So, that leaves me with the tougher, fattier cuts such as shoulder blade chops or fore shanks. These cuts are still capable of producing great dishes, but they typically require more trimming and a long cooking time, usually in liquid.
I'm talking about stew here people. Sure, it requires a little more foresight, since minimum cooking time should be a couple hours, but many stews are fairly simple to make, and lamb is perfect for a lot of them.
One of my favorites, and of the easier ones to make, is lamb stew provencal, but I wanted to try something different, and so found this recipe for a Tunisian-style lamb stew in Bon Appetit. It was rather delicious with some adjustments (I used a lot more spice than they did and used chicken stock instead of water--also, they use way too many onions). The dominant flavor is cardamom, which I love. You can use previously ground cardamom if you have to, but add less than you would using fresh. If you use fresh pods, simply crush them open in a mortar and throw the whole shebang in the stew. Once they've cooked for a few hours they'll be tender enough that you can eat them if you like. I like. Served over saffron rice (also with cardamom-no pods this time, just seeds) mixed with toasted pine nuts.
I'll be making more lamb stews in the near future. If you know of one that would knock my socks off, please send it to me!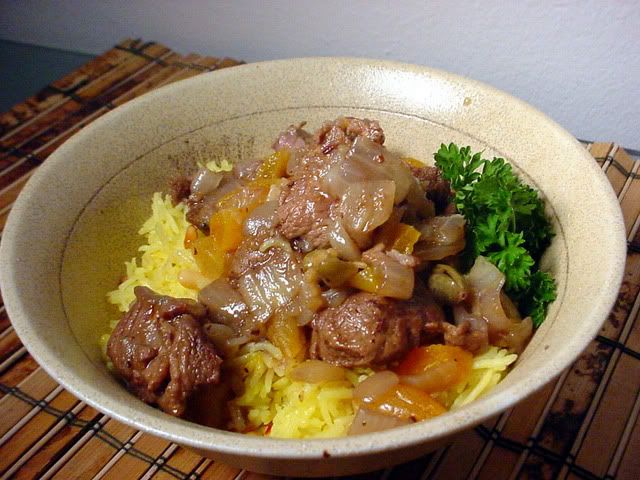 Recipe
Tunisian Lamb Stew
serves 2-4

1 1/2 pounds lamb, trimmed and cubed
1/2 tsp ground cardamom (or preferably whole cardamom pods crushed)
1/2 tsp ground cinnamon
1 hot red pepper, minced (or 1/2 tsp. cayenne pepper, less if you're heat sensitive)
1/4 tsp. ground cloves
2 Tbsp. vegetable oil
2 cups chopped onions
2 tsp. minced peeled ginger
1 cup chicken stock

1 cup dried apricots, chopped
1 tsp. white wine vinegar
1 tsp. sugar

1) crush/grind the first four spices and toss with lamb pieces to cover, set aside in fridge for 1/2 hour.
2) Heat oil in large pot on medium high, add onions and sautee until translucent, add lamb and a pinch of salt. Sautee until lamb is brown (5 minutes or so)
3) Add ginger, stir, sautee for 1 minute
4) Add chicken stock, bring to boil.
5) Cover, reduce heat to low and simmer for anywhere from 2-4 hours
6) With slotted spoon, remove lamb and onions and set aside. Turn heat to high and boil juices for 10-15 minutes. When reduced, add apricots, vinegar, and sugar, reduce heat to medium high, and cook for 3-4 minutes.
7) Return lamb and onions to sauce and cook long enough to heat them back up.
8) Serve over rice cooked with ground cardamom, saffron, and pine nuts.