They say that during law school you should "live like a student now so you don't have to live like a student later." I have not really taken this to heart.
True, my rent is relatively low (for D.C.), and I try to pack a lunch on the days when I intern at the Superior Court, instead of eating small, overpriced sandwiches from "gourmet" chains like Costi and Au Bon Pain-ful For Your Wallet. But I can't resist using a healthy chunk of the financial aid on luxury foods now and then. Hence last week's $25 per lb. lobster.
It was my first time making lobster. Nothing special, really. You just put it in some salted water until its done. The little fellow in the picture above made no sound when he went in the pot, to my confusingly mututal relief and disappointment. We also sauteed some jumbo shrimp with capers in butter/garlic/lemon sauce. I don't typically like rosé, but we had a really tasty one - if I get the name I'll post it.
Also, from a few days ago:
Here's our back-patio grill. It's a dual charcoal/gas grill, but I usually use it for charcoal. These brats were boiled in beer before we put them on. TASTY.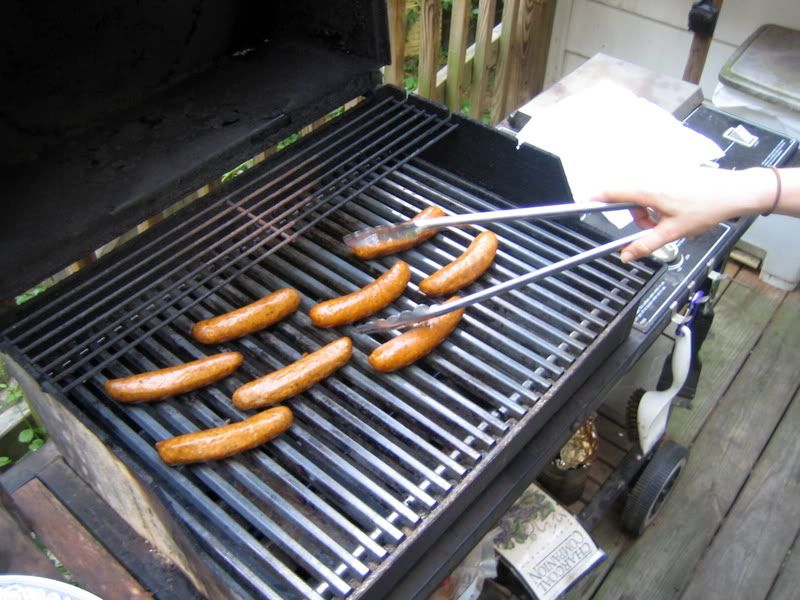 I'm looking forward to this weekend. My amigo Javier from Madrid is sadly leaving for Spain in a couple weeks and is having a large fiesta. He has enlisted me to help with the food. He's supplying the chorizo, jamon serrano, and manchego. After dismissing the idea of a time-consuming paella, I decided to go with several different meats, including some memphis-style dry rub ribs and some lamb kebabs. That's on Saturday, so expect a good post on Sunday.