Alright alright alright. I know I said at the beginning of summer that I was going to be posting again all summer long with fantastic recipes and adventures. It wasn't a lie. It was more of a well-intentioned but flawed prediction.* But the fans have spoken, all two of them (three if you count my mother), and I've decided that I missed the blog too much to let it slip away into the ethernet forever.
So how about a quick recap? (If you just want the mango soup recipe, skip to the bottom, you ingrate).
Law school is much better now that the first grueling year is over. I actually have time for the important things in life. Like fun. Washington D.C. is an all-around fantastic place, for music, nature adventures, and, of course,
food
. Toward the end of spring I bought a vespa and being more mobile has enabled me to explore more nooks and crannies of the area. There are three million sushi restaurants in this town. There are amazing Ethiopian restaurants on U Street, where you can see live traditional dancing several times a week. There are the inexpensive and very tasty Guatemalan and El Salvadorean restaurants of Mt. Pleasant. In Silver Spring, to the north, there is a gigantic Asian market where I'm able to stock up on panko, fresh fish of all kinds, and enormous containers of kimchi.
I also took a week-long trip to Memphis. Two major highlights: (1) Seeing Radiohead from about fifteen feet away at Bonnaroo Music Festival, and (2) gorging myself on Memphis BBQ. I didn't get a pic of the Q, so here's one I took of Radiohead. They so gooooood.
Other summer highlights: I've been playing soccer twice a week on the National Mall with a rag-tag bunch of grad students and foreign students studying english. One such gentleman, Carlo, from Genoa, promises me that we'll be cooking soon, so stay tuned for some nice Italian food.
Also, made good friends with a woman from Tel Aviv who taught me how to make this incredible spicy mango soup. No, it's not really an Israeli recipe, but calling it that made you curiouser, did it not? Thank you, I'm aware that 'curiouser' is not actually a word. It's called artistic license. Lay off man.
I have to say this is one of the most interesting and tasty soups I've ever had, and I heartily recommend it, especially while the last few weeks of summer are dripping away. So here it is, courtesy of Limor Ben-Har:
Mango Soup
4 large mangoes - 2 can be ripe and two maybe not so ripe
3/4 stick of butter
2-4 chillis - chopped (I used thai chilis, but whatever you like)
4-6 garlic cloves - chopped
1/2 cup white wine (I only had red wine on hand, but it tasted just as good)
2 cups of cream (the more cream the sweeter the soup will be)
pinch of ground nutmeg
pinch of ground ginger
salt and pepper
(1) Cube two of the mangoes and puree the others in a food processor.
(2) Melt the butter, add garlic for a minute, then the chillis for another minute, then the cubed mangos for a couple of minutes, stirring all the while.
(3) add the wine and spices, stir until it boils, then add the cream
(4) stir on low heat until it boils, then simmer for about 15-20 minutes, stirring occasionally. (5) taste to see if you need more spicy... if it's too thick, add milk, if it's not, add cream.
Tastes even better as leftovers!
Below you can see it on the stove, next to some of my now perfected
gyoza
.
Good to be back.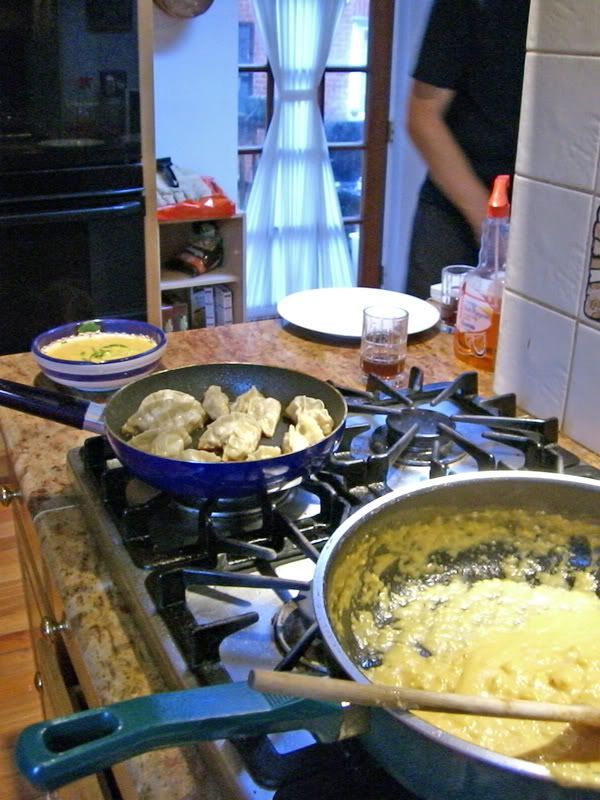 *See what law school is doing to me?