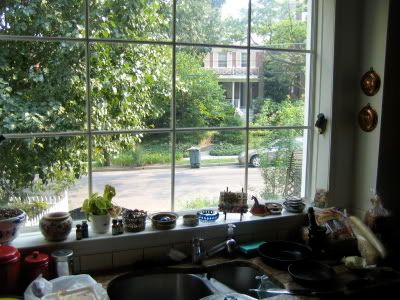 Friday, August 9, Washington D.C.
A monkey sits alone at his laptop, marveling at the fact that law school starts in little over a week. He wonders to himself many things. One thought surfaces again and again. What the hell is he doing here? There are, of course, many answers to this. Many of these answers are very good. Convincing. Some of them are even noble. But of course anyone who enters law school without any shred of doubt or ambivalence probably has serious underlying psychological problems. Watch for tics.
But lets backtrack a little, then we'll get straight to the food. A lovely family in a lovely neighborhood in Northwest Washington DC (near Friendship Heights) left for a year to three years for Austria, where the father works for the IAEA. To keep their house in order and make a few bucks ($36,000 to be precise) they decided to rent out their house to Kitchen Monkey, his sister, two friends from Florida, and another 1L at AU Law. The house is beautiful, and living in what is certainly the nicest house I've ever lived in or will live in for many many years at the moment of my life in which I am the most financially strapped...well, let's just say the irony is not lost on me. There is a fish pond with real fish (the turtle is fake) tons of flowers in the yard, a nice big porch with not one but two porch swings, a deck with nice big grill, and of course the amazing kitchen with lots of counter space, a breakfast nook, and this big fat six-burner gas stove. I actually got goose bumps when I first saw it. That's how much of a dork Kitchen Monkey is. Anyway, check out the goods: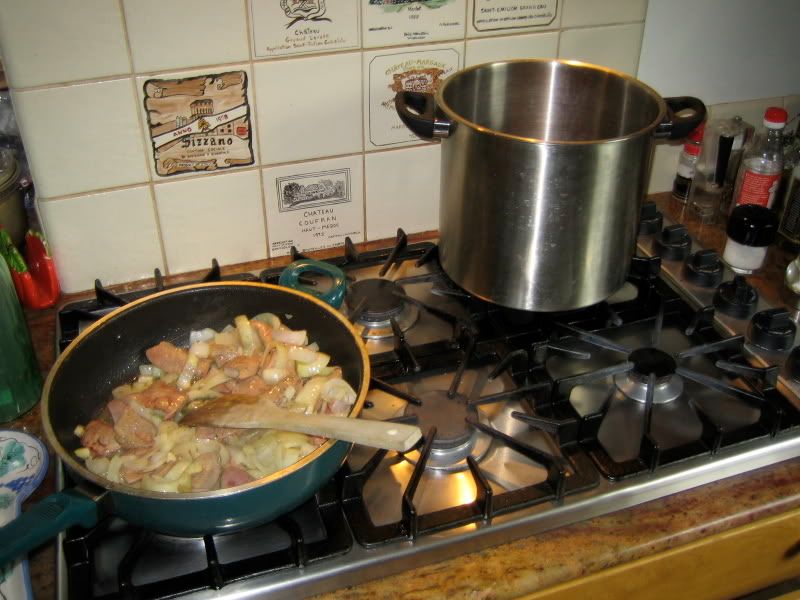 That's beef liver and shallots sauteeing away, eventually to become a paté, in the way my friend Nick makes it (though I think he usually uses chicken livers).
That night I went all out for the roommates and a couple guests. I made my special caesar dressing, but the real work went into the raviolis. Loosely based on a Marcella Hazan recipe I made a filling of bay scallops, asapargus, herbs, breadcrumbs, and parmesan. The dough I made with my pasta roller and the raviolis were stuffed by hand, boiled, then dressed with little more than butter, fresh basil, and fresh parmesan. So GOOD. Here they be, just filled: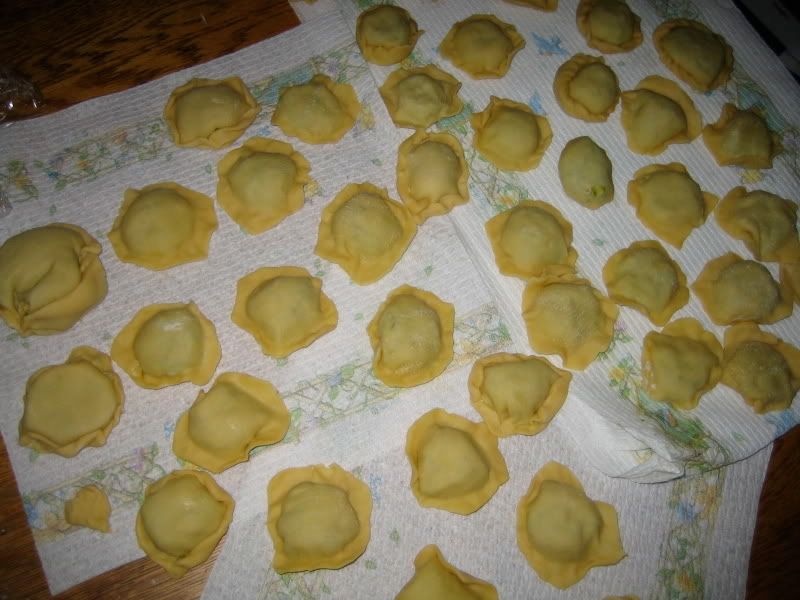 Its a shame that despite having such a nice kitchen I'll probably not have alot of time to cook once classes start. Hopefully I'll find a few epicureans among the field of budding lawyers and we can work out some rotating study/feast night. Tonightwe're using that gigantic grill on some brats for them and a big rib eye steak for me. With pesto butter-YEAH! Tomorrow I'm going up to NYC to hang with some friends. Will probably try to hit up Minca Ramen Factory again. Minca. Minca. I love Minca. Yes I do.